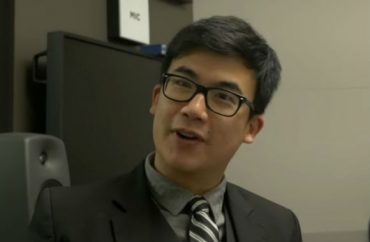 Who decides what is 'disparagement'?
Simon Tam wanted to start a band with other Asian Americans, so he advertised in Asian shopping centers and dim sum restaurants in his adopted Portland, or "America's Whitest City," as he called it.
He wanted a band name that would "flip some stereotypes over," so he went with The Slants, as he told The Washington Post.
It was not only a way of reappropriating a slur against Asians as "slant eyes," he said:
It would be this play on words — because we could talk about our slant on life, what it's like to be people of color, to be Asian American.
No one asked about the name as the band played Asian American festivals and got Asian press coverage, Tam said – until he filed for a trademark registration.
That's where a federal government office blatantly discriminated against Tam, effectively preventing him from getting a record deal because he couldn't register his intellectual property.
Now the adjunct college instructor-turned-First-Amendment-crusader has taken his lawsuit against the Patent and Trademark Office (PTO) all the way to the Supreme Court, where he has united the liberal ACLU and conservative Alliance Defending Freedom behind him, the Post reports.
His target: the "disparagement" clause in a federal law that forbids trademarks on terms that "may disparage" an ethnic group.
Unhinged federal discretion to discriminate
Similar to the illicit regulatory "guidance" issued by the Department of Education on "unwelcome conduct" (e.g., overheard sex jokes) as sexual harassment, the trademark disparagement clause gives the PTO practically limitless authority to reject trademarks (i.e., deny property rights) if someone is conceivably offended.
It doesn't matter that Tam chose The Slants precisely to subvert stereotypes; or that the PTO has granted protection to other uses of "slant" that were not filed by Asian Americans; or that two other federal entities (Department of Defense and the White House) have involved The Slants in their programs.
MORE: Anti-gun dildo protest is 'sexual harassment' according to the feds
People are worried that a victory for The Slants – particularly the Supreme Court striking down the disparagement clause as unconstitutional – would be a boon to the Washington Redskins, which briefly lost its trademark protection before the Supreme Court took up The Slants' case:
[G]roups of minority lawyers oppose them, and a coalition of liberal, minority members of Congress say that the First Amendment shouldn't force the federal government to give a stamp of approval to hateful speech. …

[Acting Solicitor General Ian Heath Gershengorn told the high court] the government is under no obligation to provide the band with the legal protection and benefits that comes with trademark registration, such as nationwide, exclusive use of the trademark.

"Nothing in the First Amendment requires Congress to encourage the use of racial slurs in interstate commerce," Gershengorn wrote.
This is a BS argument, as the U.S. Court of Appeals for the Federal Circuit ruled, because it gives the feds the authority to "penalize private speech merely because it disapproves of the message it conveys."
MORE: How the government can silence you by claiming it's government speech
One older Asian American activist told the Post that the name may be "empowering to a young social justice rock band," but it also "may be debilitating for those who remember life in American internment camps during World War II."
Too late, as Tam noted:
Every single racial slur you can think of for Asian Americans is a trademark right now. And almost any kind of slur you could think of for any group is a registered trademark right now. The law's not working.
Here are some of the approved trademarks for bands from the Redskins' brief: Cholos on Acid (lower-class Mexicans), N.W.A. (yeah, it starts with the N-word), The Roast Beef Curtains (female anatomical slang), Hookers & Blow and Whores from Hell (self-explanatory).
Tam isn't thrilled that a victory might benefit the Redskins either, and his lawyers are giving the Supreme Court some options other than a constitutionality ruling: that "The Slants" is not actually disparaging, or it's not disparaging "actual people [individuals]," or the law is "so vague that it cannot be uniformly implemented."
There's one problem for people who believe the government can't treat you differently because it doesn't like your speech.
The Supremes issued an incoherent ruling in 2015 that said state governments can regulate messages on driver-chosen specialty license plates because it's government speech.
Under this logic, any government entity that confers any benefit on the public can discriminate against any group in the provision of those benefits, simply by saying that group offends people.
Maybe the older liberal activists who are lecturing Tam on being sensitive and inclusive will change their tune when a Trump administration starts deciding what "disparages" the president-elect or his allies.
MORE: How a lawsuit about specialty license plates can wind up censoring students
Like The College Fix on Facebook / Follow us on Twitter
IMAGE: The Slants/YouTube