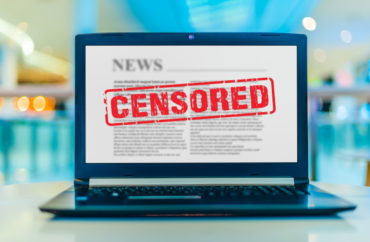 Removes incoming dean, poll, story and station manager amid outcry
In the last four months the Walter Cronkite School of Journalism and Mass Communication at Arizona State University has repeatedly removed pro-police related items after students and activists cried foul.
In June, the school rescinded a job offer to the new dean of its journalism school, Sonya Forte Duhé, after students accused her of past microaggressions and other insensitive comments. Mostly notably, Duhé had recently tweeted support for "good police officers who keep us safe."
Also that month, Cronkite News, the news division of Arizona PBS produced by content from the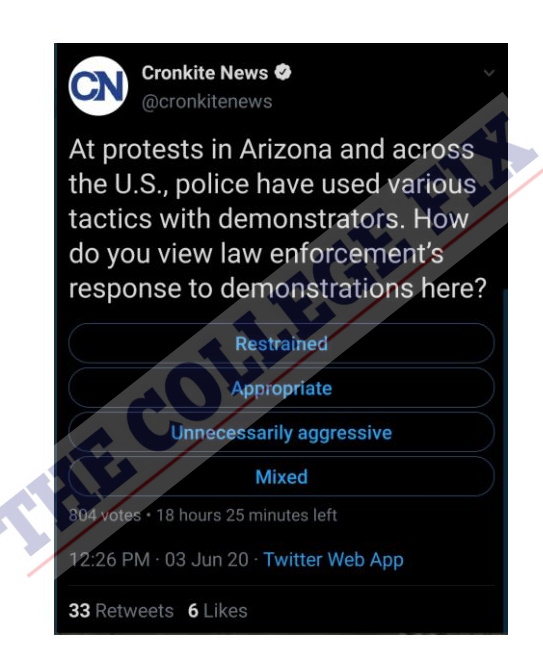 Cronkite School, took down a Twitter poll that had been accused of being too soft on police.
In a separate incident in June, Cronkite News also removed an interview with a former police officer after complaints it did not provide "sufficient context" or "alternative viewpoints."
Finally, earlier this month, the station manager of its student-run radio station was removed from her position after she tweeted an article revealing details behind Jacob Blake's arrest warrant. It was accused of downplaying police violence.
"If things continue as they do, soon there will be no conservatives left to cancel, and progressive journalists will only be left to cancel themselves like a scorpion stinging itself to death," opined Brian Anderson in a piece headlined "Cancel Culture Comes to Cronkite" for National Review.
With regard to the controversial Twitter poll, the uproar was reportedly focused on its wording, deemed by some as too soft on police.
Cronkite News took down the poll.
"Our goal is not to create more divisiveness," they said in their apology tweet, adding the poll options were "poorly worded."
Cronkite News recently deleted a Twitter poll. Here's why. pic.twitter.com/PKzbfsU9t5

— Cronkite News (@cronkitenews) June 3, 2020
Many also criticized Cronkite News after it published an interview with an ex-police officer on "Arizona Horizon," a nightly public affairs show on Arizona PBS.
Cronkite News removed the piece.
"Cronkite News has removed this interview with a former police officer who spoke to Arizona Horizon host Ted Simons," said Christina Leonard, the executive editor of Cronkite News, in an editor's note. "After hearing feedback from our readers and student journalists, we recognize the piece did not include sufficient context, alternative viewpoints or a fact checking of the source's comments."
She stated its removal was due to "failings" on her part and the "newsroom's editorial process."
Leonard also said that Cronkite News faculty is working with students to "evaluate how to cover these issues in ways that better serve and represent our communities, especially the black community and other communities of color." She added that such discussions would impact Cronkite News' story selection, approval process, social media and language.
Meanwhile, the student station manager at Cronkite's Blaze Radio has been removed from her position this month after outcry over a post she made on social media.
Rae'Lee Klein, a senior at the Walter Cronkite School of Journalism, on August 29 had shared on Twitter a New York Post story that revealed additional details about the August 23 police shooting of Jacob Blake in Kenosha, Wisconsin.
"Always more to the story, folks," Klein had reportedly tweeted. "Please read this article to get the background of Jacob Blake's warrant. You'll be quite disgusted."
Last week, ASU Walter Cronkite School's Interim Dean Kristin Gilger told Klein that staying on as station manager is not an option, but that she only had three other options: "Reassignment to another student worker position; remain on the board with the assignment I outlined; start your own station," according to a Sept. 15 email Klein shared with Campus Reform.
Student journalist 'canceled' over Jacob Blake tweet on sexual assault https://t.co/pRnStKG02V pic.twitter.com/fSkuCZym9h

— New York Post (@nypost) September 18, 2020
Karen Bordeleau, director of communications and professor of practice at the Walter Cronkite School of Journalism, told The College Fix in an email that "ASU has not taken any action to remove Rae'Lee from the station manager position while discussions are ongoing."
.@RepDLesko called out @Cronkite_ASU and @BlazeRadioASU for their unfair treatment of @RaeLeeKlein , a student journalist who was "canceled" for sharing Jacob Blake's arrest warrant.

A school of "journalism" shouldn't punish students for reporting facts.https://t.co/BSlCn6eMK0

— Michael Austin (@mikeswriting) September 11, 2020
In her email, Bordeleau said that the students involved in Blaze Radio, a student-run organization at ASU, had made their "own decision about whether to recognize her as their leader" and included a copy of Interim Dean Gilger's statement.
Klein's tweet had drawn a fierce response from other students, which led fellow Blaze Radio board members, who had supported her at first, to announce their unanimous vote for her removal as station manager.
A statement from Blaze Radio alumni: pic.twitter.com/g727e2Wrcs

— Blaze Radio (@BlazeRadioASU) September 6, 2020
In a phone interview with The College Fix, Jordan Spurgeon, production director of Blaze Radio and a board member who voted to not recognize Klein as station manager, said that he and other board members had been contacted by so many students in the first three to four hours after Klein's Jacob Blake tweet that they realized their making a statement wasn't the "right move."
He said it would "look performative, rather than that we're here to make improvements like the rest of the country—and journalism as a whole—is trying to do."
"It was a barrage … I had about ten different students call me; some in tears just about the frustration they felt," he said. "So, for me, I just had to put myself in their shoes with that."
Klein, who had first accepted The College Fix's interview request but then stopped responding, had clarified in a tweet: "It was not my intent to make an excuse for what happened to Jacob Blake."
But Spurgeon told The Fix that the board, excluding Klein, decided that "while it wasn't her tweet itself, it was the outcry of a majority of our students, at least what we felt was a majority and still feel is a majority of students based on meetings that we've had. We thought it was in the best interest of them to basically tell Rae'Lee to step down or ask her to step down."
"Our intention was never to cancel Rae'Lee," he added. "We've stated multiple times that we don't think she's racist."
MORE: Student radio hosts yanked from air, suspended after using word 'tranny' (VIDEO)
IMAGE: Monticello / Shutterstock
Like The College Fix on Facebook / Follow us on Twitter