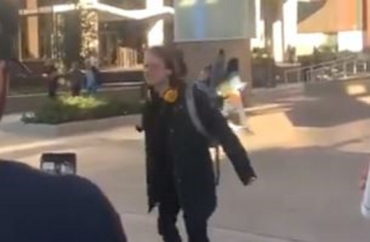 A now-viral video that shows a young man shrieking toward a Students for Trump table at Arizona State University, yelling that Republicans and Donald Trump should have their throats slashed, is now under investigation by campus authorities.
The video was posted to Twitter on Wednesday evening by Students for Trump at ASU. In the 18-second video, an unidentified young man can be seen screaming at the table saying "slash his throat, every fucking Republican." The student also swung his arm through the air, miming a slashing motion.
Before storming off, he told the Students for Trump table to "suck my fucking balls."
🚨CRAZY LEFTIST ON COLLEGE CAMPUS🚨

Watch as a tolerant leftist threatens to "slash the throat" of @realDonaldTrump and every Republican.

We will NOT let the left silence us! @TrumpStudents #KeepAmericaGreat 🇺🇸 pic.twitter.com/PZcTLhR6MK

— Students for Trump at ASU (@sft_asu) February 6, 2020
The students at the table responded by calmly asking the student to repeat his earlier statement, to which the student responded by again screaming "slash their fucking throats, slash fascist throats," before walking away.
A student from the table told the screaming student to "have a good one" as the video ends.
Students for Trump at ASU explained on Twitter why they asked him to repeat things, noting: "Clarification: The reason we said for him to 'say that one more time' as he made threats against us and the President was because last time we had an incident like this (when a leftist stole our flag) @ASUPolice said they could not help us if we did not have it on video."
The Twitter post as of Friday morning had more than 4.2 million views, nearly 5,000 retweets and almost 11,000 likes.
The College Fix reached out to the ASU Students for Trump chapter via Twitter, but did not immediately receive a response.
AZ Central reports that campus officials are "working to identify the man and confirm whether he is a student," adding:
If the man is an enrolled student, the university said the Dean of Students Office would make contact and take "appropriate action." The statement did not specify what those potential actions could be. The statement went on to say that the university personnel "do not believe there is a threat to campus," but that ASU Police was continuing to monitor the situation.
MORE: University scrubs online art show after pic depicting Trump beheading
IMAGE: Twitter screenshot
Like The College Fix on Facebook / Follow us on Twitter