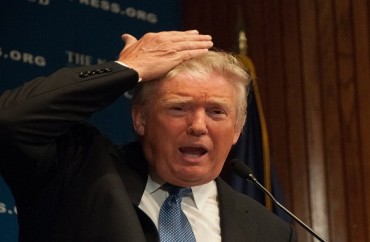 Wilmington University in Delaware shut down an online art exhibit after a complaint surfaced regarding a submission showing President Trump getting his head cut off.
The private institution in New Castle initially said it had removed by the piece, a parody of Caravaggio's 16th century "Judith and Holofernes," but ended up scrapping the entire show because officials "didn't know how to delete a single entry," according to the Delaware News Journal.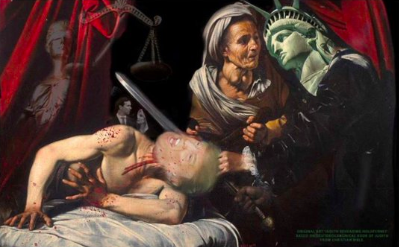 Apparently everything got figured out, however, as the entire show — sans the Trump piece — was put back online late this morning.
Although the offensive submission made it through an initial review, the university "revisited" it after someone emailed a screenshot to local media and government officials.
Wilmington U. Senior Director of Administrative and Legal Affairs Joe Aviola said the picture "did not meet the university's values" — "it's more violent than it is expression of speech," he said.
John Flaherty, president of the Delaware Coalition for Open Government, said unless there are clearly outlined and agreed-upon standards for submission, everything submitted for this show and similar galleries should be displayed.

"Even violent inappropriate art pieces should be judged for what they are," Flaherty said. "You ought to have controversial pieces submitted. That's part of being an artist."

Aviola said there were no explicit rules for the show. …

"In hindsight, we maybe should've had some other people review it," Aviola said.
The News Journal notes it contacted the sender of the complaint, but did not receive a response. It does not identify the person.
The art show has been up since January 13 and runs until Valentine's Day.
MORE: President Trump beheaded in painting showcased at public university
MORE: School mural depicts Trump's severed head impaled by Aztec spear
IMAGES: Shutterstock.com, Twitter screenshot
Like The College Fix on Facebook / Follow us on Twitter