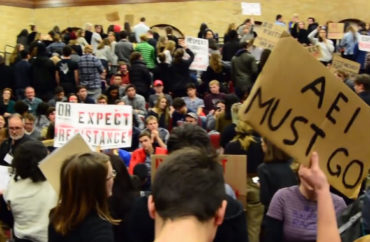 Fear of 'social marginalization' leads to 'bandwagoning'
It will be some time before Middlebury College stops being associated with violent left-wing intolerance – even among its own students.
A writing and linguistics professor is conducting an ongoing survey of students at the Vermont liberal arts school where American Enterprise Institute scholar Charles Murray and his faculty interviewer were physically attacked, sending the latter to the hospital.
Early results suggest that true ideological diversity is being inhibited because students are afraid of being seen as insufficiently woke.
Writing & Rhetoric Program Director Shawna Shapiro writes about student attitudes for Inside Higher Ed, saying they had "complex reactions that didn't fit the simplistic 'free speech vs. inclusion/diversity' dichotomy" that typically prevails.
Seven in 10 students in the sample identify as "left-leaning," yet even these students say by a 4-1 margin that it's "very important" or "important" to talk about controversial issues with people whose viewpoints are different than theirs.
Most of the entire sample are already having such conversations, more so over meals or in residence halls than in class or public lectures.
MORE: Charles Murray's work deemed 'centrist' in blind evaluation
Four in five say these conversations "can be difficult to navigate," with some students saying they feel pressured to vocally disagree without really listening:
They have been taught that in some situations — for instance, as a bystander to bullying — silence equals complicity. As a result, they worry that simply listening, without offering a rebuttal, might be interpreted as tacit support for a particular viewpoint. Hence, while they may want to "just listen," they feel tremendous pressure to "speak out."

Some participants acknowledged that this pressure to speak hinders empathy and understanding. One admitted that at times, feeling empathy with someone who has a view that is "crazy, absurd, mean or hateful … scares me because I feel like I am agreeing with this hateful thing."
On a small residential campus like Middlebury, they are also afraid of being socially marginalized, so they agree with each other "for the sake of having the correct opinion" – a phenomenon Shapiro calls "bandwagoning."
Some are afraid to talk about controversial subjects outside of their cocooned friend group, while others don't want to potentially ruin friendships by getting into politics.
Shapiro's results sound similar to an informal survey the Brookings Institution scholar Jonathan Rauch conducted among the liberal think tank's interns, and her solution mirrors his: structured conversations in small groups so they can talk about ideas and their reactions.
She also wants to see the college teach "empathetic listening" as a skill set rather than assume students will figure it out on their own, going beyond its sporadic initiatives such as "deliberative dialogue" over a meal:
Those efforts have not yet been integrated systematically into the classroom, however — nor are they prioritized (yet) in the academic curriculum. We need a comprehensive approach to creating a community of thoughtful listeners who are willing and prepared to engage productively with ideological difference.
MORE: Prof injured in Middlebury riot tells Congress free speech is 'national security'
IMAGE: Shutterstock
Like The College Fix on Facebook / Follow us on Twitter