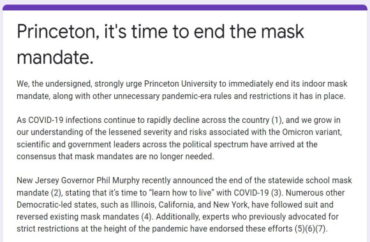 Matthew Wilson, a sophomore at Princeton University, is perplexed by his institution's mask mandate. He does not find the mask mandate necessary "given that our Covid transmission rates are so low and 99% of students have been vaccinated," he told The College Fix via email.
Recently, Wilson started a petition to end his university's mask mandate.
"Princeton must end its obsolete pandemic rules and allow students, faculty, and staff to return to a full, complete sense of normalcy, which we haven't experienced since March 2020. Needless and uncompromising restrictions — particularly the mask mandate — serve few and do far more harm than good," states the petition, signed by hundreds of students.
Wilson is not alone.
As state political leaders across the nation have begun repealing mask mandates and other COVID-19 regulations, many universities refuse to follow suit. In response, college students have taken to protests and petitions to demand an end to the mask mandates.
At Clemson University, junior Fish Belk started a petition Feb. 2 to stop his university's mask mandate.
"I felt that even after numerous meetings with the student government and various faculty members, nothing would change unless the students rallied and did something themselves," he said in an email to The College Fix.
Belk said that an informal poll indicated over 90 percent of students dislike the mask mandate. With such pressure, Belk said he believes "fearful faculty" are the main sticking point.
"People must be allowed to make their own medical decisions to choose whether or not to protect themselves, not be forced to 'protect' others," he said.
Belk posted his petition on President Jim Clements' home door but received only a partial mask mandate relaxation in response. The compromise was that masks would only be worn in classrooms.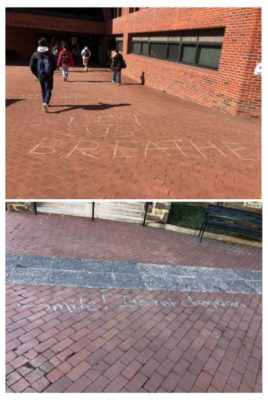 Dalton Nunamaker, a Georgetown University student, told The College Fix that students have taken to their free speech zone recently to chalk messages of protest. Messages have included "let us breathe" and "Smile! It's not dangerous."
One section of brick states: "98% vaxxed and boosted — why the masks?" Georgetown has mandated vaccines and boosters for all students and staff.
Some of the chalking also complained about the safety tents. Georgetown has set up completely enclosed outdoor tents across the campus. Athletes have to use them if they want to train their cardio fitness without a mask on.
In previous defenses of the tent structures, public health officials have cited their "cracks" as additional ventilation, Nunamaker said.
Students must still also wear masks indoors on campus. According to the policy, they must be a "properly fitted, high quality mask," such as an N95.
Meanwhile, Georgetown administrators have "been completely unwilling to work with any students opposed to the mandates," including ignoring student emails, Nunamaker said.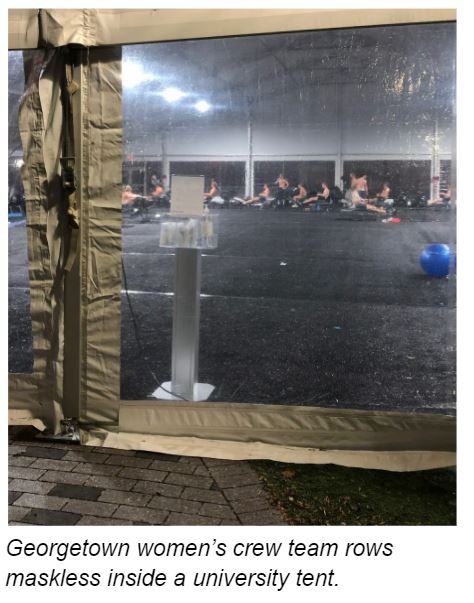 Belk found a similar response to his petition at Clemson. In meeting with key administrators, faculty, and staff, Belk found "no willingness to work with students regarding the mask mandate."
He alleges the administration is "out of touch when it comes to how the students feel."
Forty three states no longer require masking of any kind, leaving only seven states and the District of Columbia mandating masks.
In early February, Oregon, Connecticut, Delaware, New Jersey, Massachusetts and Rhode Island all dropped masking policies for education, or have made plans to phase them out.
But many universities remain set in past COVID policies.
Riley Reese, a criminology major at OSU, said it's frustrating.
"I am concerned that Ohio State University is willing to give students misconduct marks on a strict liability basis without investigation for either missing antigen tests or non compliance with wearing masks," Reese told The College Fix.
But not all students want mask mandates lifted.
Students at the University of Nevada Reno recently protested the mandate being lifted. The protest, which went viral on Twitter, elicited responses from conservatives who voiced concern over the students' sanity, Fox News reports.
MORE: Mask wars erupt at Montana State University as some students battle mandate
Editor's note: Matthew Wilson and Dalton Nunamaker contribute to The College Fix.
Like The College Fix on Facebook / Follow us on Twitter