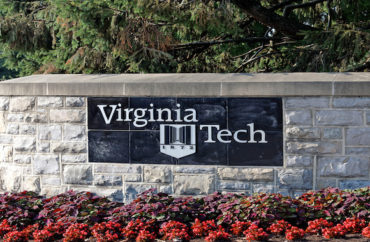 Sessions 'pointless and not very productive,' one student says; others more receptive
Students at Virginia Tech in Blacksburg, Virginia, expressed mixed reactions to this year's freshman orientation, one which was at times heavily politicized and which featured numerous instances of transgender-related ideology.
A viral article at The Federalist written by the mother of a Virginia Tech student explained how her son's orientation featured "extreme and overtly leftist propaganda," including significant emphasis on pronoun usage. Speakers "introduced themselves with not just their names and titles but also preferred pronouns," while "all the new students' badges contained not just their names but also their preferred pronouns because the school had made it part of registration."
Reportedly, students were lectured "on not making assumptions about each other's gender or sexuality."
On the same day that article was published, Patricia Perillo, the vice president of student affairs at Tech, wrote on the school's website that the university "has a deep commitment to respect all individuals and to value human diversity."
"The use of gender neutral pronouns is becoming increasingly commonplace across society and many students arrive on campus with this awareness. The concern that is raised is that the dichotomy of 'he and she' pronouns does not leave room for other gender identities," she said, adding that "stating one's gender pronoun is a personal decision. No one in the Virginia Tech community is required to do so."
The College Fix attempted to contact the orientation staff at Virginia Tech for comment on how long the current orientation program has been in effect and what kind of feedback they have received. The staff did not respond.
The summer orientation program, which ran in two-day increments from July 10 to Aug. 2, welcomed nearly 8,000 new Hokies to campus The programs featured multiple icebreakers and academic advisor meetings, social gatherings, and numerous resource fairs. Strategies to avoid "microaggressions" were also taught.
Orientation 'good,' 'weird,' 'not very productive'
Nick Brown, a freshman student, was hesitant to answer questions about Tech's orientation, but he did tell The Fix: "I enjoyed orientation…I learned a lot about the college."
"I found the pronouns weird. Has any student introduced themselves with their pronouns?" he asked, adding: "It's all about diversity, VT is showing how everyone is unique."
"I thought the orientation was good overall," said freshman student and business major Peter McNamara.
He said that some of the activities "were very fun, and it was great to meet new people before the school year started."
When asked about the printing of personal pronouns on his name tag, McNamara said, "It wouldn't have bothered me either way. I can see why they did it, though."
"The school did a good job moving us in and getting us settled, and were very helpful, but the meetings after the initial move-in were pointless and were not very productive," said freshman student Noah Madel.
Native Americans recognized at orientation, on campus
At orientation, a speaker started the session by acknowledging the Tutelo/Monacan Native American tribes, who, according to the school's website, "are the traditional custodians of the land" on which Virginia Tech is situated. The university has stressed inclusion of Native American students: Established in 2016, the American Indian and Indigenous Community Center touts itself as a resource that "serves as a community gathering area and study space."
Student reactions to the Native American announcement were similarly mixed.
"With how diverse our society is today, and with how big of a school VT is, there is going to be a lot of different backgrounds, and it's important for them to be inclusive so that everyone can call this place home," said McNamara.
"I think that was a long time ago, and if they really feel that strongly about their old land, then we could do a monument or something," Madel said.
"But it's not like if we don't then Native American spirits are going to haunt the campus. Just maybe 1,000 people will be mad at us. Most of them probably don't even care," he added.
McNamara disputed the notion that the orientation was particularly left-wing. "I wouldn't say orientation leaned one way or the other," said McNamara.
"The school leans a little left, but the college is so big and so diverse that orientation is so small compared to everything else," said Madel, adding: "It is what it is, and it's not a big deal what side they're on. That's what I enjoy about college: that you can be whoever you want to be. You don't have to be confined by a 'side.'"
MORE: University hosts separate orientation for black freshmen
MORE: University hosts 'Sexual Chocolate' sex ed event as part of freshman orientation
IMAGE: Katherine Welles / Shutterstock.com
Like The College Fix on Facebook / Follow us on Twitter