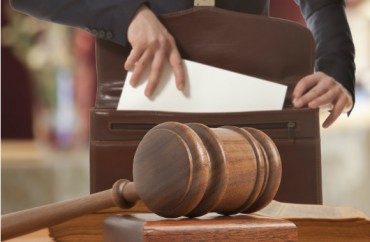 An atheist group has sued the U.S. Department of Education, alleging that during the Trump administration it unconstitutionally issued a regulation that forces universities to fund religious student groups that discriminate against non-religious and LGBTQ students.
American Atheists, an organization that defends the civil liberties of atheists and advocates for complete separation of church and state, was joined by Americans United for Separation of Church and State, an organization dedicated to advancing the separation of religion and government, in filing the lawsuit on Jan. 19 — Trump's last day in office.
"The Trump Administration is forcing colleges to choose between protecting students and losing federal funding, or allowing discrimination against students in order to keep federal financial assistance," said Americans United for Separation of Church and State's Vice President and Legal Director Richard Katskee in a news release.
"That is unfair, unlawful, and just plain wrong," he argued. "Discrimination has no place in our public colleges and universities."
The lawsuit seeks to force faith-based student groups to comply with a university's nondiscrimination requirements even though doing so would likely require them to adopt principles that violate their core beliefs—or risk not being recognized as a campus group.
When The College Fix reached out for a comment on the lawsuit as well as its current status, American Atheists Communications Director Tom Van Denburgh responded by sharing the news release and complaint.
Liz Hayes, associate vice president of communications at Americans United, also simply shared the news release and noted that "the case was just filed three weeks ago."
The regulation being challenged was adopted in part to promote equal treatment of religious students as well as "the First Amendment's guarantees of free expression and academic freedom."
It requires, among other things, that a public institution receiving federal grants "not deny to a faith-based student organization any of the rights, benefits, or privileges that are otherwise afforded to non-faith-based student organizations."
But the complaint argues that the Department of Education had no authority to enact the regulation. It was filed on behalf of the Secular Student Alliance, a national organization for atheist, humanist, and other non-theist students, and Declan Galli, an LGBTQ student at California Polytechnic State University.
"Congress has not delegated to the Secretary or Department of Education any authority to interpret or enforce grant recipients' compliance with the First Amendment or to impose or enforce on grant recipients any other requirements respecting free speech, religion, or religious discrimination," the complaint states.
A U.S. Department of Education spokesperson told The College Fix in an email that the department does not comment on pending litigation.
The lawsuit, which asks for the district court to invalidate the regulation, also claims the regulation, itself, is unconstitutional and will "inflict significant harms on the students," regardless of whether universities comply with it or not.
"The Rule violates the First Amendment and long-standing Supreme Court precedent by affording preferential exemptions from nondiscrimination requirements to religious student clubs that impose material harms on other students and their universities, making the nonbeneficiaries pay and bear costs to subsidize the favored student groups' religion," it says.
The Supreme Court case the complaint cites as long-standing precedent is Christian Legal Society v. Martinez, a 2011 case in which the Court ruled that a California college could defund a Christian legal group for violating the school's "all-comers" policy when it refused to admit members who engaged in homosexual behavior.
Corey Miller, president of Ratio Christi, said his Christian campus ministry would be negatively impacted if the regulation was overturned.
He told The College Fix in a phone interview that "all-comers" policies are increasingly being used by colleges and universities to target faith-based campus groups, especially those that are Christian.
"The 'all-comers' policy… always stated you can't discriminate against people… attending your group—we don't. In many of our groups, they have more nonbelievers than believers," he said. "We simply insist that our officers be Christians. It's a Christian campus ministry. And Muslims are able to do it, atheists are able to do it, Jews are able to do it, why can't Christians?"
In the past, his group successfully fought against a similar nondiscrimination policy at University of Colorado, Colorado Springs.
According to Miller, Trump's Department of Education put the regulation into place "to provide further insulation or protection over religious conscience among campus groups."
"[While universities might say], 'Thou shalt not have Christian groups that believe Christian things,' the protection was intended to say, 'No, Christians can believe Christian things," he said.
In American Atheists' press release, Vice President for Legal and Policy at American Atheists Alison Gill claimed that freedom of religion is a "fundamental American value that protects everyone's right to their beliefs, as long as they don't harm others."
"It does not give people or organizations the right to ignore civil rights protections and discriminate," she stated.
Miller, however, argues that such an argument ignores the fact that discrimination can go both ways—that colleges and universities can, and have, discriminated against Christians and Christian campus groups.
"Isn't it discriminatory to disallow a viewpoint or organization to be on campus because they hold a view at variance with LGBTQ," Miller said in his phone interview with The College Fix. "If we're supposed to celebrate diversity, shouldn't we be celebrating viewpoint diversity rather than viewpoint orthodoxy?"
"It's not the other organizations that are being discriminated against, it's typically the Christian ones. And discrimination, like new racism, is often construed as going only one way," he said.
MORE: Court holds University of Iowa officials personally liable for discriminating against Christian club
IMAGE: Shutterstock
Like The College Fix on Facebook / Follow us on Twitter