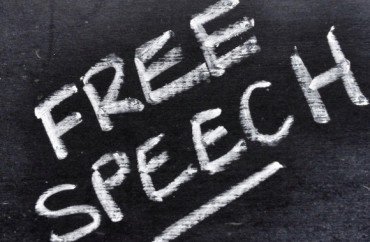 Officer mentioned 'free speech area'; chief later said it does not exist
An audio clip apparently depicts campus police at George Mason University telling a staffer of a campus conservative club that he needed to post his materials in a "free speech area," despite the campus chief of police later claiming the school doesn't have one.
It's the latest development in a back-and-forth between the university and the conservative Young America's Foundation following a confrontation between campus cops and members of that organization last month.
According to Young America's Foundation, in January members of YAF had been posting flyers advertising the group's George Mason University chapter before campus police informed them that the flyers had not been properly approved and could not be posted outside of a "free speech area."
Police chief Carl Rowan, Jr., later appeared to dispute that characterization in an email to The College Fix, writing: "George Mason University does not have free speech zones. The entire campus is a free speech zone."
"The George Mason University Police department did not infringe on anyone's right to free speech. Mason Police were called after receiving a report from an employee that 30-40 people were inside a campus building posting flyers without going through the university procedure for approval," Rowan said.
YAF spokesman Spencer Brown claimed last week that the organization had video of the exchange proving that officers had indeed mentioned a "free speech area," though he didn't immediately provide it when asked. Following The Fix's report on the controversy, Brown provided The College Fix on Monday with a link to a tweet containing audio of the purported exchange.
What GMU officials told YAF activists last week and what GMU administrators are reportedly claiming this week don't add up.

Listen and read for yourself: pic.twitter.com/3e5ZuQOiy5

— YAF (@yaf) January 30, 2020
The tweet, posted Thursday, contains 36 seconds of audio. In that clip, police can be heard referencing a "free speech area" as the only place where flyers are allowed to be posted. "Other than that, you can't do this anywhere else," an officer says. The police claimed that the free speech zone was in front of the school's Johnson Center.
The Fix reached out to GMU for comment on Monday afternoon but did not immediately receive a response. University officials have refused to comment on the school's free speech and campus-wide posting policies, including how exactly YAF had violated "university procedure" regarding the posting of flyers.
A campus spokeswoman claimed that the school was too busy dealing with a potential coronavirus case on campus to respond to The Fix's queries on the matter.
MORE: University refuses to clarify posting policy after claiming conservative group violated it
Like The College Fix on Facebook / Follow us on Twitter