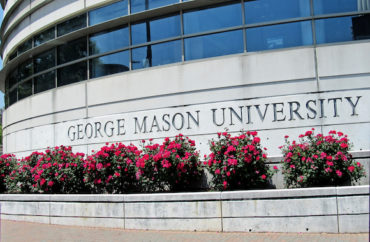 Conservative group also evasive in giving answers
A public university in northern Virginia is refusing to clarify its flyer posting policy following its claims that a campus conservative group was in violation of that policy. The school cited ongoing concerns regarding the coronavirus as the reason it could not comment.
Late last month in a posting on the website of the conservative student group Young America's Foundation, organization spokeswoman Kara Zupkus wrote that staffer Kevin McMahon and more than 120 other activists had on Jan. 23 been putting up posters advertising meetings for the George Mason University chapter of YAF. According to McMahon, an officer approached the activists and told them that they could post the flyers in the campus's "freedom of speech area" and that they could not post "anywhere else" on the campus.
Officers also reportedly "suggested McMahon could be charged" for littering if any of the flyers blew down after being hung.
Reached for comment via email, campus Chief of Police Carl Rowan, Jr. appeared to dispute YAF's characterization of events. "George Mason University does not have free speech zones. The entire campus is a free speech zone," Rowan told The College Fix via email.
"The George Mason University Police department did not infringe on anyone's right to free speech. Mason Police were called after receiving a report from an employee that 30-40 people were inside a campus building posting flyers without going through the university procedure for approval," Rowan said.
"Campus police responded to the situation and advised the group that they were free to be anywhere on campus and hand out flyers and other information, as long as they were not blocking sidewalks or entry to campus buildings. They were also given information about the university's procedure for posting flyers."
Flyer policy appears to apply only to 'student centers'; school, group won't clarify
Rowan in his statement included a link to a university webpage that outlined the school's policy for hanging flyers in campus "student centers." Those rules stipulate that groups must seek approval before hanging flyers in those centers.
The rules also stipulate that "no approval is needed to hand out flyers outside of Student Centers buildings…but soliciting and/or distributing materials inside buildings is prohibited." It is unclear if YAF's activities qualified as "soliciting and/or distributing" materials. The police chief claimed the group was "posting" flyers.
Erin McLaughlin, a student who was present with YAF during the flyering event last month, told The College Fix that that policy did not apply to the activists at the time.
"We were not in a student center. There were classes in the building we were in," McLaughlin said, adding: "YAF told us that we didn't need official clearance, based on the buildings we were postering. They researched GMU's policies beforehand and planned which buildings we would be in (i.e. non-student center buildings)."
The Fix sought to learn what policy YAF had studied before posting the flyers—whether or not it was the "Student Center" rules which Rowan had provided, or whether there were broader campus-wide policies regarding flyer posts. McLaughlin told The Fix she asked YAF leadership several times what campus rules they had studied before the flyering event but that the group did not respond to her with an answer.
Campus officials were similarly unhelpful. Spokeswoman Melanie Balog, who had originally provided The Fix with the police chief's statement, did not respond to multiple emails seeking clarification about the university's broader flyer policy and whether or not the "30-40 people" mentioned by Rowan were in a student center or some other campus building.
Reached by phone last week, Balog told The Fix not to expect a response to those queries, citing ongoing efforts by the university to deal with a possible case of coronavirus on the school's campus.
McMahon declined to elaborate on the situation when reached for comment last week. In an email to The Fix, YAF spokesman Spencer Brown said that it was "befuddling" that the university was "denying" YAF's version of events, claiming that the organization has video of the exchange between McMahon and the officers.
"YAF Program Assistant Kevin McMahon was clearly told by campus authorities that he could only post flyers within a 'free speech area. It's absurd that a public university would attempt to limit the free expression of students seeking to provide their peers with a more balanced education," Brown wrote.
He did not respond to a followup request seeking the video. It is not included in the organization's post on the incident.
MORE: College hosts free speech training after harassment of conservative group
MORE: Student denied permission to post flyers questioning university's free speech policy
IMAGE: Daniel J. Macy / Shutterstock.com
Like The College Fix on Facebook / Follow us on Twitter