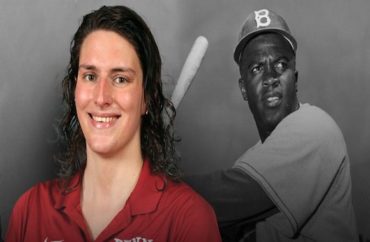 A professor of women's, gender and sexuality studies at Purdue University is claiming transgender female swimmer Lia Thomas is a "trailblazer" along the lines of baseball's Jackie Robinson.
Robinson broke Major League Baseball's color barrier in 1947 and was immortalized in the movie 42.
Cheryl Cooky writes in an NBC "Think" op-ed that "for anyone who cares about the advancement of sports, and women's sports in particular, [Thomas'] win should be celebrated." She is referring to the transgender swimmer's victory in the 500-yard freestyle at the NCAA championships last week.
Cooky (below, left) pooh-poohs the notion that trans-females have a distinct advantage in sports, zeroing in on testosterone in particular. There are also factors such as "hormones […] coaching and training, psychological makeup of an athlete, [and] access to resources and equipment," she says.
She adds that efforts to limit or ban trans athletes from competitions are "not based on science."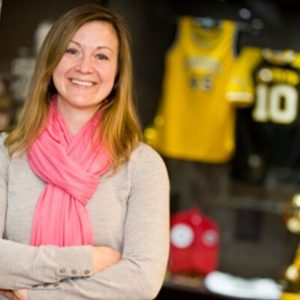 "Instead, they are rooted in societal and cultural definitions of what constitutes gender or what defines a woman. Such questions matter because sports are organized based on the belief of natural differences between men and women, and they are sex-segregated as a result."
Cooky then remarkably ponders whether Brown v. Board of Education, which ruled unconstitutional the doctrine of "separate but equal," is an apt analogy to the current gender situation with sports:
"Women's sports are situated at a paradoxical intersection wherein sex segregation is upheld through claims of biological difference, yet equality is prefaced on being treated the same and given the same opportunities as men."
MORE: Trans ideology sinks as Lia Thomas swims
Change in sports doesn't happen overnight, nor is it linear. Major professional sports leagues like MLB and the NFL resisted racially integrating their player rosters. It was not until 1962 that the last NFL team, the Washington Commanders, would racially integrate. Moreover, athletes of color played in the NFL in the early years of the league, only to be excluded as the league developed. Today, athletes like Jackie Robinson are celebrated as "breaking the color barrier" in sports, although that narrative often requires sanitizing, simplifying or rewriting a more complex, nuanced and contradictory history.

There remains though a cultural investment in celebrating sports' "firsts," whether that be Robinson as the first Black MLB player, the first openly gay active player in the NBA, the first nonbinary U.S. athlete to participate in the Winter Olympics or the first woman to score in a Power Five college football game. Many of the athletes who become the "first" encounter resistance, backlash and opposition, especially from those who have historically benefited from the status quo in sports.
Also remarkably, Cooky claims women's "unequal treatment" in sports is due to their "presumed physical inferiority." Proof of this, somehow, is the former U.S. Soccer Federation president's apology for saying "differences in speed and strength of the men's and women's teams" partially explained their differences in pay.
That's right — he apologized for stating a biological fact.
And if you need it, here's still more proof of women's "presumed physical inferiority," this time in the realm track and field:
— A time of 11.09 in the 100 meters gets a #1 rank for high school girls. For boys the rank would be #2,937th.
— 52.54 in the 400 meters is #1 girls rank; for boys it's #6,661st.
— 4:37 in the 1600 meters: #1 rank for girls, #5,482nd rank for boys.
— 20'7.25" in the long jump: #1 rank for girls, #5,482nd rank for boys.
And even more: Perennial Olympic track and field phenom Allyson Felix's 200 meter high school record (set in 2003) was bested by 2,487 high school boys last year.
Need it be said that if Professor Cooky gets her way, women's sports effectively will cease to exist … ?
MORE: Coach and Olympian: Allowing trans women to compete against biological women ruins sports
IMAGE: Fox News, Cheryl Cooky/Twitter screencaps
Like The College Fix on Facebook / Follow us on Twitter