But women's rights advocates fight back
U.S. Women's Soccer star Megan Rapinoe has opened her rather big mouth again, this time telling American parents their concerns over transgender women athletes — biological males participating in women's sports — "just aren't that important."
Rapinoe said she is "100 percent supportive of trans inclusion" and claimed the public doesn't actually know a lot about the issue in a discussion with Time this week.
"Frankly, I think what a lot of people know is versions of the right's talking points because they're very loud," the two-time Women's World Cup winner said. "They're very consistent, and they're relentless."
Smartly, Rapinoe doesn't even attempt to address the basic science surrounding the issue, instead opting for virtue signaling and alleged morality:
I think people also need to understand that sports is not the most important thing in life, right? Life is the most important thing in life. And so much of this trans inclusion argument has been put through the extremely tiny lens of elite sports. Like that is not the way that we need to be framing this question. We're talking about kids. We're talking about people's lives. …

I would also encourage everyone out there who is afraid someone's going to have an unfair advantage over their kid to really take a step back and think what are we actually talking about here. We're talking about people's lives. I'm sorry, your kid's high school volleyball team just isn't that important. It's not more important than any one kid's life.
Rapinoe's remarks come, ironically, just as Title IX turns 50 years old, the same Title IX which she said — in the very same interview — gave her "the opportunity to play soccer in college and get a scholarship." Need it be asked how she would feel if a biological male/transgender woman took her spot on that college team … not to mention her scholarship?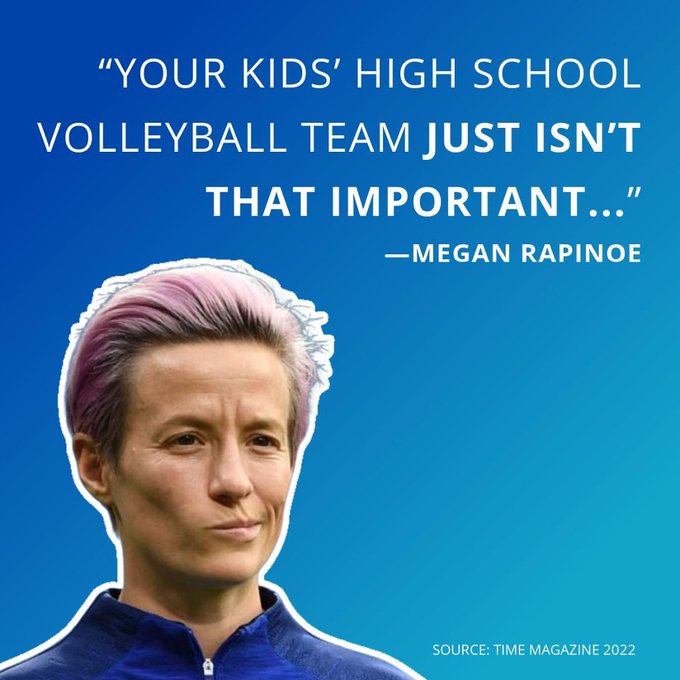 The notion of fairness seems to be of import to Rapinoe only when it's in her self-interest. She recently got her wish of pay "equity" with the men's national team via a "pioneering collective bargaining agreement" … even though the women's team couldn't even beat a team of 15-year-old boys.
MORE: Sorry, feminists and progressives: Men are better athletes
Despite the advantage Rapinoe has in garnering fawning mainstream media coverage, there are women out there who vehemently oppose her position. On Thursday, Our Bodies, Our Sports held a rally in Washington, DC to "keep women's sports FEMALE." It featured former U.S. Representative Tulsi Gabbard, Pundit Mary Katharine Ham and numerous women athletes.
.@TulsiGabbard: "there is such a thing as a woman!" pic.twitter.com/khDVZwoYDT

— Inez Stepman ⚪️🔴⚪️ (@InezFeltscher) June 23, 2022

"Female bodies are fundamentally different from male bodies," OBOS's website reads. "In recognition of these immutable biological differences, most athletic competitions have separate divisions for males and females […] On the 50th anniversary of Title IX, join us in celebrating female athletes, and help us preserve single-sex athletic competition."
Counter protesters try to drown out rally in support of women's sports. pic.twitter.com/dL4EKCeZu2

— Jeremiah Poff (@JJ_Poff) June 23, 2022
In addition, this weekend features the ICONS, Independent Council on Women's Sports, conference in Las Vegas featuring renowned tennis star Martina Navratilova and two-time Olympic gold medalist Donna de Varona. ICONS' mission is to "expand, empower, and protect women's sports" and "uphold and defend the original intention of Title IX, protecting women 'on the basis of sex.'"
My sister Vicki, a two-time Olympian who was invited to participate in both of these events, opined here at The Fix almost three years ago about biological males competing in women's sports. Regarding Rapinoe's recent comments she said:
If sports are not that important, then why make it THE platform for transgender kids. Why don't we start with mental health care for them with this change. Placing them in the sports of their identity doesn't fix what they are going through. What is disgusting is the refusal for people like Rapinoe to admit the biological advantages that male to female transgender athletes have. It may not be a huge issue now in sports as far as scholarships and what not, but it will be.

Again, if we want to talk about suicide rates for trans kids, you can't have it both ways – you can't say sports aren't that important but then use sports as the platform that impacts this issue so greatly.
Many on social media feel similarly.
Megan Rapinoe should be asked how it felt as a member of a professional women' team to lose a U-15 boys club?

There are many differences between males and females. The two sexes are not interchangeable.#TrustTheScience

— Bavarian Sasquatch (@BavarianSquatch) June 23, 2022
Not to fuel the fire but I find Megan Rapinoe's stance on trans sports ammusing. Without sex segregation in sport she wouldn't even have the platform to tell us her stance.

— Chris Blackham (@Chris_Blackham) June 23, 2022
OK, if male biology gives no advantage, let's make all sports gender neutral including Ms Rapinoe's.
Oh wait, there's a reason why we don't do that… https://t.co/YJhklhQI6B

— Piers Morgan (@piersmorgan) June 20, 2022
MORE: 'Party of Science' once again ignores … science
IMAGES: YouTube, Inez Fletcher, Kelsey Bolar/Twitter screencaps
Like The College Fix on Facebook / Follow us on Twitter