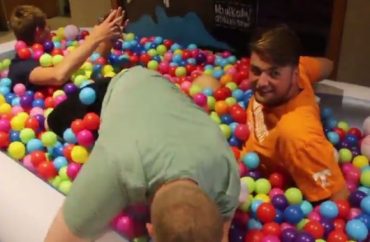 UPDATED
Entering onto a campus full of strangers, concerns about making friends and the desire to feel accepted among peers can often be stressful factors. Recognizing this, universities across America have implemented a unique solution: ball pits.
This fall, campus leaders are welcoming students back to school with these colorful play pools. The pits are used as ice breakers, to break down racial barriers, facilitate lessons on wellness, and as part of freshmen orientation, according to many online campus calendars.
Containers, such as inflatable swimming pools, are filled with small plastic balls labeled with different topics and questions. Students are then encouraged to enter into the tubs together to discuss.
Students learn more about each other by delving into deeper levels of conversation in the pits, facilitators told The College Fix in interviews. From icebreakers to controversial subjects, coordinators said they strive to create a safe space where students can hold and respect conflicting points of view.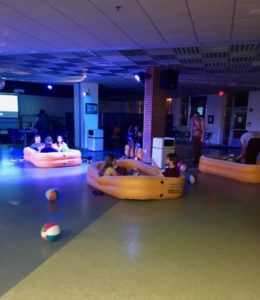 "The ball pits were perfect for allowing students to feel comfortable," said Kate Ayotte, a wellness programs administrator at Central Connecticut State University in an email.
The school recently hosted a "Strangers in a Ball Pit" event (pictured) as part of its Welcome Week. At Central, it helped students learn more about maintaining their sanity throughout college life.
"That was the greatest benefit for helping them have conversations with other students they didn't know and talk about mental health. They were so relaxed and just hanging out in the pools," Ayotte said.
Likewise, Saint Mary's College is scheduled to use a ball pit during its upcoming Mental Health Awareness Carnival.
"Students pick up a ball with a prompt and talk to their partner in the ball pit about their response. The balls start conversations between students and help them get to know one another on a slightly deeper level," said Dr. Cynthia Cutshall, staff psychologist and outreach coordinator at Saint Mary's College's Counseling and Psychological Services, in an email.
"Students enjoy the activity, and it helps them talk to one another in real life, instead of over social media," she said.
Brady Ruffin with the Student Activities Association at the University of Mississippi said these events generate friendships and memories, noting the selfies and conversations seem memorable. At Ole Miss, its "Ball-Pit with Strangers" event late last month aimed to help foster inclusion, according to the university's website.
"We write some questions on the bigger balls that we have that facilitate conversations," said Ruffin, citing examples such as "What's your favorite spot on campus?" or "What's the best place to eat on campus?"
"Questions like these that spark conversation, especially on the topic of campus and Ole Miss," Ruffin said. "It's incredibly fun and people love it when it comes out."
Facilitators told The Fix that the downside to the ball pits include that they're not always easy to set up and don't always attract many students. Another issue cited by Ayotte is that of making sure the conversations are healthy.
"One of the down sides as an administrator was not being able to have a way to monitor or observe the conversations too closely," she said.
In addition to the pits at St. Mary's, Ole Miss and Central Connecticut State, schools such as Northwestern State University, the University of Delaware and other campuses have hosted pits in recent weeks.
The ball pit trend on college seemed to gain ground during the last school year, when such events were billed as an effort to provide emotional safety. This year, campus officials have endeavored to present them as icebreakers and opportunities to make friends.
MORE: Colleges erect ball pits to offer students safe spaces to make friends, share feelings
Main image: YouTube screenshot; Inside image: courtesy photo
Editor's note: This article has been amended.
Like The College Fix on Facebook / Follow us on Twitter