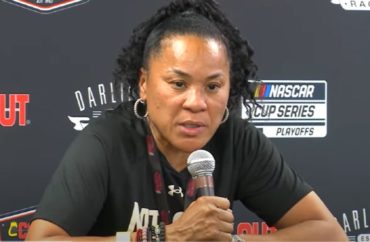 There is still no proof the incident occurred
The head women's basketball coach at the University of South Carolina unilaterally decided to cancel a November 7 game against Brigham Young University over unfounded and debunked racial slur allegations. The team also planned to play BYU in 2023.
Coach Dawn Staley announced the decision due to allegations from Duke University volleyball player Rachel Richardson who claimed that she and her black teammates were called racial slurs and harassed during an August 26 game against the Mormon university. Richardson stated in a later interview that she heard racial slurs only during the second set.
"As a head coach, my job is to do what's best for my players and staff," Staley announced on September 2. "The incident at BYU has led me to reevaluate our home-and-home, and I don't feel that this is the right time for us to engage in this series."
"This was a selfish decision," she said, according to ESPN. "I was only thinking about South Carolina women's basketball." ESPN reported that the head coach (pictured) "didn't discuss it with her players, telling them of her choice Friday without much fanfare."
The Friday decision came after Staley "slept on it a few nights," according to her comments to the media. ESPN reported that Staley "vetted all angles of what happened at BYU and talked to several people."
University and police officials have also vetted video footage from all angles and have yet to identify a person who uttered racial slurs. BYU did ban a special needs individual identified as Duke players as the one who used the slurs, only by his voice. The person banned does not attend BYU.
BYU students who sat in the student section have denied hearing any racial slurs, according to reporting by the conservative campus newspaper the Cougar Chronicle. The Salt Lake Tribune reported that "campus police say it doesn't appear the man who was eventually banned was the person shouting the N-word" while Associate Athletic Director Jon McBride said officials "have been unable to find any evidence of that person using slurs in the match."
A police officer stationed near the fan section has also said he did not hear any racial slurs after being stationed there after the third set. The presence of a police officer also contradicts Richardson's assertion that BYU did not do anything during the game to remedy the situation.
.@DukeVB player claimed she was the subject of repeated racial slurs. Players and officials banned an individual with special needs from games indefinitely. However, the player's story has begun to fall apart. pic.twitter.com/ErOCn9JlTO

— The College Fix (@CollegeFix) September 1, 2022
During the game "there was no individual pointed out and despite BYU security and event management's efforts, they were not able to identify a perpetrator of racial slurs," according to a university statement.
Richardson's godmother, who did not attend the game, told a different version of the story.
Lesa Pamplin, a political candidate in Texas and Richardson's godmother, alleged that the Duke athlete "was called a [N-word] every time she served."
Pamplin has since made her Twitter account private, though screenshots of her anti-white statements were preserved by the Cougar Chronicle.
MORE: Hate crime hoaxes of 2021
IMAGE: News 19 WLTX/YouTube
Like The College Fix on Facebook / Follow us on Twitter