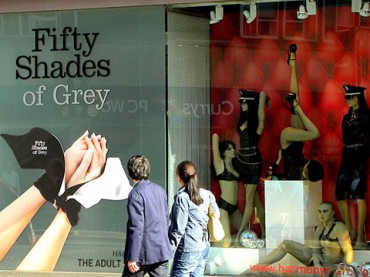 Grind on a balloon on a guy's lap to learn … something
The University of Illinois-Chicago student facing jail time for acting out 50 Shades of Grey scenes on a sex partner isn't an outlier at the school.
The College Fix found campus-sponsored activities over the years that celebrate BDSM activities and encourage students to participate in weird sex games.
Freshman Mohammad Hossain was charged with "sexually assaulting a 19-year-old female student," according to the Chicago Tribune. On Monday, Judge Adam Bourgeois released Hossain on $500,000 bail.
"He would say that it was consensual," public defender Sandra Bennewitz argued in court, referring to Hossain's sexual activities with the unidentified woman, a previous "intimate" partner.
The alleged assault involved tying up the woman, striking her with a belt and punching her several times, according to the Daily Mail. Hossain told police they were "re-enacting scenes from 50 Shades of Grey."
Unlike the oft-heard campus rape narrative of a victim who is inebriated during sex and only much later reports it as rape to campus authorities, Hossain's partner told him to stop "and began shaking her head and crying," Assistant State's Attorney Sarah Karr told the court, the Tribune said.
When she struggled to free her arms, Hossain held her arms behind her back even as she pleaded for him to stop, and he held the door shut when his roommate interrupted their encounter, Karr said. The woman called police after telling another person what happened, she added.
Media reports of the court appearance suggest that Hossain and his partner did not decide on a "safe word" to use during their encounter, a standard recommendation for BDSM activities.
Condom education encourages the most reckless way to put it on
While the alleged assault occurred in Hossain's dorm, he is hardly the first member of the UIC community to try his hand at BDSM.
For example, the school hosted a 1998 "lesbian health conference" that included a presentation on "Leather/BDSM in the Lesbian, Bisexual, and Transgender Women's Community."
A sociology Ph.D. student at the university gave a 2012 presentation in her department entitled "Beyond Whips and Chains" about BDSM.
And every year, the university's Wellness Center and Center for Research on Women and Gender host a "Safer Sex Fest."
The first festival in 2010 included some bizarre games, according to The Argus, an independent campus newspaper.
One game included a female trying to pop a balloon on a male student's lap "using different sexual positions" in order to "condition participants to use a condom," which one observer said didn't make sense, The Argus said.
Another game, a "condom relay race" intended to teach students how to properly put on and remove condoms, featured some students ripping open the condom packages with their teeth or ignoring their expiration dates in their haste to win the race, students told The Argus.
Festivals in following years featured the same farcical games.
Neither the Wellness Center nor Center for Research on Women and Gender responded to Fix requests for comment, and the UIC administration did not return requests for comment.
Instagram stud
Hossain is a graduate of Amundsen High School, a local public school in Chicago. His LinkedIn profile lists him as a camp counselor, who led a "Summer Youth Education Program."
He has no problem being half-naked in front of strangers, posting multiple pictures of himself on Instagram going back to high school.
If Hossain wants to be freed from the chains of puritanical sex rules, he might think of transferring to University of Chicago.
The school serves as "parent organization" to a BDSM club known as "Risk-Aware Consensual Kink," which received student government funds to pay for "trial memberships" in a dungeon-themed BDSM club, as reported by The Fix.
It also hosts an annual sex week: Last year's included presentations on flogging and electrocution. This year's sex week will also involve a "Bondage 101" class, though it unexpectedly features InterVarsity Christian Fellowship on a panel on "Christianity and sex."
The University of Chicago defines sexual abusers as those who have "a strong belief in extreme gender roles" and are "jealous and possessive."
College Fix reporter Matt Lamb is a student at Loyola University-Chicago.
Like The College Fix on Facebook / Follow us on Twitter
IMAGES: Todd Mecklem/Flickr, Emilie Ogez/Flickr