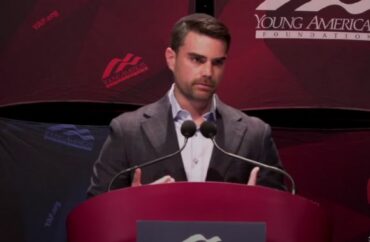 UPDATED
MADISON, Wisconsin – Western values are "better in every conceivable way" than the Hamas worldview, Ben Shapiro said last night at the University of Wisconsin-Madison.
The co-founder and editor emeritus of The Daily Wire spoke to more than 1,100 people. The campus Young Americans for Freedom chapter hosted Shapiro along with the Young America's Foundation for his lecture, titled "Stop Being Apologetic About the Superiority of Western Values."
Shapiro started the speech without apology: "Your civilization is better than Hamas', and it's better than those of the people who sympathize with Hamas and you should not be shy about that," he said.
"Your civilization is better in every conceivable way, it is better in terms of freedom, it is better in terms of decency, and it is better materially," Shapiro said.
"Hamas's morality is evil. In the view of Hamas, the ultimate goal is the full destruction of all non-believers. To that end, they are willing to kill babies in their cribs," he said.
One student after the event told The College Fix that he appreciated how Shapiro "didn't hold back" in saying that "America and the West is great because of the values we are grounded in."
Shapiro also called out protesters at Madison from an October 11 demonstration who, in his words, shouted "garden variety Jew hating slogans" including "Glory to the martyrs" and "We will liberate the land by any means necessary."
Similar chants were echoed by protesters outside the Shapiro event. Video from The Fix shows protesters yelling chants such as "Hey, hey, ho, ho, Israel has got to go," "From the river to the sea, Palestine will be free," and "Ben Shapiro you can't hide, you're supporting genocide."
The Fix tried asking a few of the around 40 total protesters for comment on Hamas fighting Israel, but all of them turned away and refused to answer.
This protest was much smaller than last year's protest at UW-Madison outside a YAF event when hundreds of protesters protested Matt Walsh's speech for his "What is a Women" lecture series. Some of the protesters went as far as to eat pages from the Bible and assaulted Christian students counter-protesting.
Unlike the last time Shapiro came to UW-Madison when protesters stormed the stage in an attempt to stop Shapiro's speech, no disruptions occurred during the event inside the venue.
The president of the campus YAF chapter told The Fix via email that the university was supportive of their efforts.
"The only disruption was the individuals with red hand paint. We worked very closely with the university to ensure the venue was secure and safe for all," Harrison Wells told The Fix. "We did receive threats from other student groups and students. The university was much better than last but still placed obstacles in our way and our beloved university could do better to support conservative students on campus."
However, one masked student, who said he didn't want his political beliefs associated with his identity, did ask Shapiro how hard it was to "generate AI generated images of Hamas attacks?".
Shapiro replied, "you should take off your mask now, not because what you're saying is so antisemitic but just because what you're saying is so unbelievably stupid that I hope employers take a good stock of person that would ask something so dumb."
He said the accusations of AI-generated images were mass false flagging operations on X through the Community Notes system, despite the images not being AI generated. Community Notes is a way of fact-checking posts on X, formerly known as Twitter.
Editor's note: The article has been updated with comments from Harrison Wells.
MORE: UW-Madison liberals 'physically sick' and 'hurt' by Walsh event
IMAGE: Young America's Foundation
Like The College Fix on Facebook / Follow us on Twitter