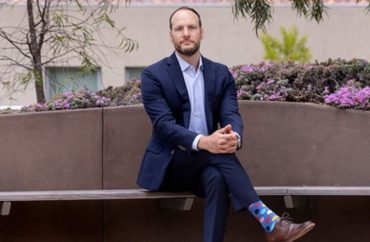 Voters recalled Boudin from his position as San Fran district attorney
The University of California Berkeley's law school just announced that it hired Chesa Boudin, a former prosecutor who was booted from office, to run its new legal clinic.
San Francisco voters booted Boudin from the district attorney job in a 2022 recall election, but now he is back to work, running Berkeley Law's new Criminal Law & Justice Center. He left in disgrace just two and a half years after he started the job.
Boudin is the son of Kathy Boudin and David Gilbert, who both served time in prison for murder and robbery in connection to their involvement in the Weather Underground. The Berkeley news release notes that Boudin was raised by his "adoptive parents," but never names them – he was raised by domestic terrorist Bill Ayers and Bernardine Dohrn.
Dean Erwin Chemerinsky stated in the news release:
Since coming to Berkeley Law, I have wanted to create a criminal law and justice center to further advance the important work of our tremendous faculty and clinics in this area.

I am delighted to launch the center and that Chesa Boudin will be its first executive director. Chesa was chosen after a national search and has substantial experience across the criminal justice system. He has thought deeply about the system, and I cannot think of anyone better to create and direct this important center.
Boudin (pictured) received the endorsement of Kim Foxx, who is the state's attorney for Cook County, Illinois. She has faced criticism for initially letting actor Jussie Smollett off the hook for faking an attack on himself in Chicago. Smollett claimed that he was walking around Chicago one early frigid morning when white individuals attacked him and yelled a pro-Trump slogan, "This is MAGA country."
It turned out to be two Nigerian brothers he had paid to stage the attack instead.
MORE: Ex-felon UC Berkeley student arrested for threats
Foxx praised Boudin because he "knows that criminalizing poverty and homelessness entrenches racist policies and power structures, and that this approach fails to uphold the values of equal rights and due process we supposedly hold dear."
Berkeley describe Boudin's short legacy as a prosecutor and listed his various accomplishments, though his agenda is the reason he was kicked out of office.
"As district attorney, Boudin eliminated cash bail, established a unit to reevaluate wrongful convictions, sought to increase police accountability, and lowered sentences for nonviolent offenses while calling for improved drug treatment and mental health services," the news release stated.
His light on crime approach sparked the recall movement, according to the organization that led the effort. "Recall Chesa Boudin" pointed to the deaths of two individuals in December 2020 at the hands of Troy McAlister, who had frequently escaped criminal charges from Boudin's office for "felony carjacking, possession of burglary tools, auto burglary, parole violations, meth possession, and car theft. With each arrest, Chesa Boudin refused to file charges in every instance," the group wrote.
McAlister was already on parole.
Boudin's Yale law professor said Boudin has always recognized the harm violence does on communities. Professor Judith Resnik said her formerl pupil "focused on law's impact on people and communities."
"It will be wonderful for him to join Berkeley Law's faculty in educating generations to come on how to use law to lessen the harms of violence and increase community ties," Professor Resnik said in the university news release.
MORE: No prison time for black man who set Berkeley Asian students on fire
IMAGE: University of California Berkeley
Like The College Fix on Facebook / Follow us on Twitter