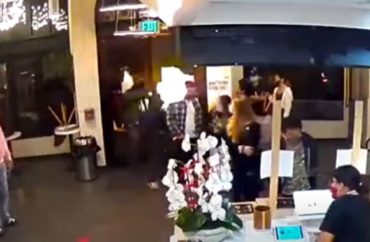 Prosecutor funded by George Soros gets criminal sent to 'diversion program'
A black man found guilty of setting two Asian University of California Berkeley students on fire will face no jail time as part of a plea deal with a prosecutor who ran on an agenda of ending "mass incarceration."
Brandon McGlone "was found guilty of lighting UC Berkeley students on fire at a boba shop near the Cal campus in 2020 has been released from custody without prison time or probation after agreeing to participate in a diversion program for veterans," according to The Berkeley Scanner, which reviewed the court records.
But he reached a plea deal with the Alameda County District Attorney's office, which is run by Pamela Price, who "has taken hundreds of thousands of dollars from the progressive billionaire George Soros," according to The Washington Free Beacon.
The two students were not the first victims of McGlone, who earlier in the day had said he "wanted to light someone on fire" and then proceeded to carry out his wishes.
He first chased one man down the street and tried to light him on fire after spraying him with WD-40. "Another man also ran from McGlone to escape being set on fire after being sprayed with a liquid while waiting in line at Taco Bell Cantina, according to testimony," the Berkeley Scanner reported.
The paper further reported:
McGlone's next stop was Feng Cha Tea House, at 2528 Durant Ave., where he found students waiting in line to order food and drinks.

He sprayed two of them with WD-40 and used a lighter to ignite the gas, creating a massive fireball, witnesses said.

The students managed to pat out the flames and escape injury. Members of their group then confronted McGlone and fought with him in the street.

During the fight, according to testimony, McGlone first pulled out a knife and then pulled out a hatchet.
Student senators also cited the incident in 2020 when it passed a resolution that called for mandatory xenophobia training.
MORE: Murderer of UC Berkeley student receives 25 years in prison
IMAGE: Angelique Duong/Twitter
Like The College Fix on Facebook / Follow us on Twitter