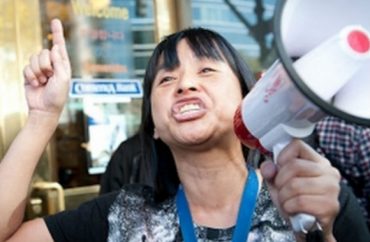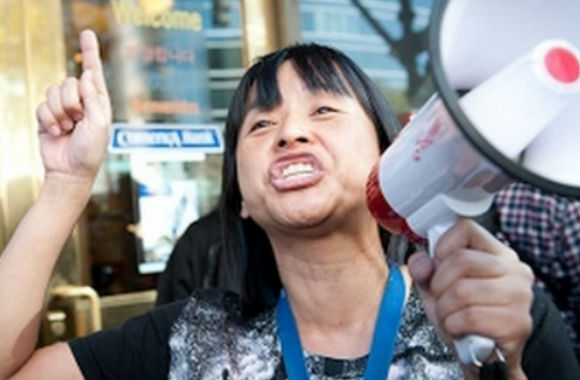 An infamous Berkeley middle school teacher and activist with the group By Any Means Necessary has been ordered to pay the court costs of the former president of the Berkeley College Republicans.
Yesterday, an Alameda County court commissioner ordered Yvette Felarca to pony up $11,000 to Troy Worden so he could pay his attorney.
Last November, Worden sued Felarca for $100,000 claiming an allegedly frivolous restraining order she filed against against him for stalking her "restricted his 1st and 2nd Amendment rights and 'made it difficult' for him to walk around campus to attend his classes."
According to The San Francisco Chronicle, Felarca was granted a temporary order against Worden, but eventually dropped her request for a permanent one.
In his ruling, Commissioner Thomas Rasch said Felarca's request for the restraining order "was not brought in good faith."
[Rasch] denied a request for sanctions against Felarca's attorney for taking frivolous legal action.

The order evoked strong and sharply differing responses.

Worden's attorney Mark Meuser said he hoped the ruling would "send a strong signal (to Felarca) that she cannot abuse the court system to silence speech." Another of Worden's attorneys, Harmeet Dhillon, accused Felarca of "abusing the courts to achieve her anarchistic ends."

Shanta Driver, Felarca's attorney, said she would appeal the ruling, saying it sends a message to women that they face a financial risk for seeking protection from harassment through a restraining order. She said Felarca had dropped the request for a permanent restraining order because Worden stopped stalking her after the temporary order was issued.
Last summer Felarca was arrested for attacking a white nationalist in the summer of 2016, but she took issue with the charges claiming "standing up to fascism is not a crime."
MORE: Berkeley teacher who leads leftist violence arrested for assault
MORE: Demands: Fire teacher who beat up white nationalist, joined in Milo violence
IMAGE: Tucker Carlson/YouTube
Like The College Fix on Facebook / Follow us on Twitter