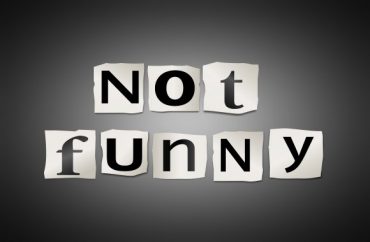 Comedian Chris Rock will no longer perform at college campuses due to the fact that "you can't even be offensive on your way to being inoffensive" these days.
Bill Maher has mocked the modern college student's snowflakery as well, noting "I so badly want to drop kick these kids into a place where there is actual pain and suffering. What happened in this country?!"
Making the funny men's point perfectly, yet unintentionally, was last Friday's "Gay Pride Comedy Night" at Berkeley's Ashkenaz Music & Dance Community Center.
The Daily Californian reports:
The night began on a shaky start with Justin Lucas, a young and uneasy comedian who — among other things — told the crowd in vivid detail about the time his grandfather solicitously rearranged his dildo collection for him. Though his uncanny ability to mimic voices held the room for some time, he lost the crowd's support after too many tense cracks about race. Following one particularly distasteful joke about deportation, the one-room Ashkenaz was left tight and airless, stuffed with a pervasive discomfort that was barely assuaged by Lucas's outraged and insistent cry, "It's a joke!"
Well, hey — Ashkenaz was founded, after all, to support "both established and emerging artists in a respectful, comfortable, safe, family atmosphere."
But what, then, accounts for this:
The crowd — small and sweet, likely no bigger than 50 strong — warmed up significantly when 40-year comedic veteran Karen Ripley took the stage. Judging by the riotous applause and generous laughter with which she was greeted, Ripley had lured quite a few loyal fans to the show. Such devotion was well-deserved; from the first words out of her mouth — "I know what you're thinking: she has a lot of sex" — to the last, she was uproariously funny. Frank but never jaded, she entertained with excellent deadpan, wonderfully unexpected one-liners and an especially funny story about a dildo that had been mistaken for poop.
So, race and immigration status are unbecoming, but sex toys mistaken for excrement? Hilarious! And in a "family atmosphere" at that!
Ripley said she believes "[t]he majority of comics […] are humanitarians — out there wanting to have fun and cheer people up."
"When you go on stage and you start saying things and people resonate," she says, "you can feel the energy in the room get higher and higher. People walk out of there like they've maybe been to a church."
I might be wrong, but I think most people want comedians to be funny, not politically correct self-censors … humanitarians or otherwise.
MORE: Why comedian Chris Rock stopped doing standup on college campuses
MORE: Bill Maher, Comedy Central hilariously ROAST campus crybullies
MORE: This is why Chris Rock refuses to do standup on college campuses
Like The College Fix on Facebook / Follow us on Twitter
IMAGE: Shutterstock