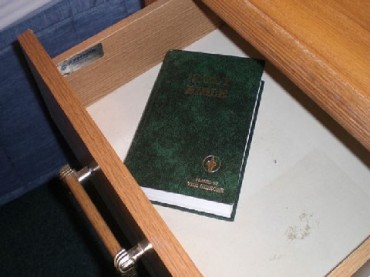 A complaint by a pro-atheism legal group recently prompted the removal of all Bibles from nearly 150 overnight guest rooms inside a large conference center at the University of Wisconsin Madison.
The complaint stemmed from the seven-story center's hosting of a "freethought festival," thrown by the university's secular student group in March, according to the Freedom From Religion Foundation, which filed the grievance with the school.
In a Nov. 4 letter to the university, an attorney for the foundation demanded the Bibles be removed, saying "state-run colleges have a constitutional obligation to remain neutral toward religion."
"When a government entity like the UW-Extension distributes such material to visitors, it has unconstitutionally entangled itself with a religious message, in this case a Christian message," the letter stated.
On Nov. 25, campus leaders sent a short letter to the foundation saying they'd remove the Bibles by Dec. 1.
"We reviewed the concern raised about the placement of Bibles in our guest rooms and decided to remove them. We want to make sure all guests are comfortable in our lodging," stated the letter, penned by Ray Cross, the newly appointed president of the University of Wisconsin system.
With that, 137 Gideon Bibles have been taken out of the Lowell Center.
University officials did not respond to telephone and email requests by The College Fix for comment.
Foundation attorney Patrick Elliot Elliott described the decision as a victory for the separation of church and state.
"While private hotels may choose to put any type of literature they want in their guest rooms, state-run colleges have a constitutional obligation to remain neutral toward religion," he said on the organization's website.
The bibles were placed in the conference center for free by Gideons International.
Founded in 1899, the nonprofit "serves as an extended missionary arm of the church and is the oldest association of Christian businessmen and professional men in the United States of America," according to its website.
The group has a longstanding tradition of placing Bibles in hotel rooms.
College Fix contributor Samantha Watkins is a student at Point Loma Nazarene University.
IMAGE: NaroOhio/Flickr
Like The College Fix on Facebook / Follow us on Twitter