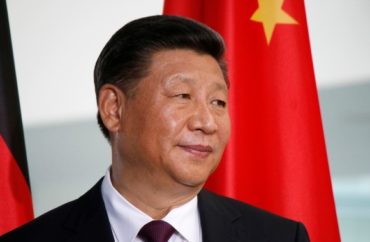 Justice Department rebrands Trump-era 'China Initiative,' concerning Republicans
U.S. Assistant Attorney General Matthew Olsen has announced plans to reframe the Justice Department's "China Initiative," which focused on prosecuting suspected Chinese spies working at American universities.
The initiative has run into a number of roadblocks in recent years, as several prosecutions of Chinese scholars have ended unsuccessfully and Asian-American groups have denounced the effort as racist.
Olsen announced in a speech Wednesday a new "forward-looking" strategy that would involve a "broader" approach to prosecuting threats from other nation-states. He noted the more holistic investigative approach would involve Russia, Iran and North Korea.
The China Initiative was created in 2018, during President Donald Trump's administration. According to Olsen, the idea behind the initiative was to "develop a coherent approach to the challenges posed by the People's Republic of China government."
"We have heard concerns from the civil rights community that the 'China Initiative' fueled a narrative of intolerance and bias," Olsen said. "To many, that narrative suggests that the Justice Department treats people from China or of Chinese descent differently. The rise in anti-Asian hate crime and hate incidents only heightens these concerns."
Olsen also expressed concern that the China Initiative prosecutions would scare researchers trying to go about their academic work.
"We have heard that these prosecutions — and the public narrative they create — can lead to a chilling atmosphere for scientists and scholars that damages the scientific enterprise in this country," he said.
But the new strategy came under criticism from a range of Republican elected officials.
"The Chinese Communist Party is devoted to stealing American innovation and turning it against us in support of its malign ambitions," said Republican Wisconsin Rep. Mike Gallagher in a statement provided to The College Fix.
"This relentless campaign, which includes but is not limited to traditional espionage, continues whether or not we choose to counter it. By ending the China Initiative, the Biden administration is sending a terrible signal about the U.S. government's commitment to countering this activity."
Senator Tom Cotton (R-Ark.) criticized the Biden administration for capitulating to charges of racism.
"Today, the Biden administration announced it's cancelling the initiative tasked with combating the Chinese government's unprecedented domestic sabotage and aggression because they claim it's racist," said Cotton in a statement following Olsen's speech. "Cancelling this initiative is just another instance of weakness from an administration more concerned with being politically correct than protecting Americans. And you can be sure our adversaries are watching."
Critics of the China Initiative have pointed to cases like that of University of Tennessee-Knoxville professor Dr. Anming Hu, whose prosecution for spying was cut short after a judge declared a mistrial.
After Hu's trial ended, the DOJ vowed to move forward with the China Initiative.
"It is the conduct that drives the case," Jay Bratt, a senior counterintelligence official in the Justice Department's National Security Division, told The Washington Post at the time. "Not the ethnicity."
In January, charges were dismissed against MIT Professor Gang Chen, who was prosecuted for allegedly conducting secret work for the Chinese government while also collecting research funds from the federal government.
"It is difficult to reconcile and accept the pain and anguish that such good people, people we are proud and fortunate to know, have endured over the last two years," said MIT President L. Rafael Reif in a statement sent to The College Fix in January.
But the China Initiative also led to a number of high profile convictions, including Harvard Professor Charles Lieber, who was found guilty on a number of counts of keeping his relationship with the Chinese government a secret.
In May 2020, former Ohio State University researcher Song Guo Zheng was arrested in Anchorage, Alaska attempting to board a flight to China. According to the DOJ, he was carrying three large bags, one small suitcase and a briefcase containing two laptops, three cell phones, several USB drives, several silver bars, expired Chinese passports for his family, deeds for property in China and other items. He was later sentenced to 37 months in prison for secretly participating in a Chinese "Thousand Talents" program.
In August 2020, UCLA researcher Guan Lei was arrested for destroying a hard drive during an FBI investigation into Chinese theft of sensitive software and technical data. According to the FBI, Lei tossed a hard drive into a dumpster near his residence on July 25, days after initially being interviewed by investigators.
Later, Lei attempted to board a flight to China and was detained by the FBI, who asked to see his computer. When he refused, the hard drive was recovered. According to the complaint, the drive was "irreparably damaged" and "all previous data associated with the hard drive appears to have been removed deliberately and by force."
Olsen did recognize that China remains a threat to America, using cyber threats, information theft, espionage, and propaganda to weaken America.
"Make no mistake, we will be relentless in defending our country from China," he said. "The Department will continue to prioritize and aggressively counter the actions of the PRC government that harm our people and our institutions."
"But our review convinced us that a new approach is needed to tackle the most severe threats from a range of hostile nation-states."
MORE: Justice Department vows to move forward with 'China Initiative' after prosecution of professor ends in mistrial
IMAGE: 360B/Shutterstock.com
Like The College Fix on Facebook / Follow us on Twitter