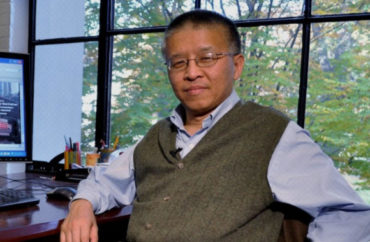 Chinese-backed media use case to call for end of 'China Initiative'
A federal court in Boston last week dismissed charges against a Massachusetts Institute of Technology professor accused of hiding work with the Chinese government.
In 2020, the Department of Justice charged MIT Professor Gang Chen, an engineer specializing in nanotechnology, with conducting secret work for the Chinese government while also collecting research funds from the federal government.
According to the DOJ, Chen accepted a position in 2012 designed to "promote the PRC's technological and scientific development by providing advice and expertise – sometimes directly to PRC government officials – and often in exchange for financial compensation."
Chen failed to report this information while collecting over $19 million in grants from U.S. research agencies.
But last week, the DOJ dropped its charges, claiming that it could "no longer meet its burden of proof."
"Today's dismissal of the criminal charges against Gang Chen is a result of our continued investigation into this matter," said U.S. Attorney Rachael Rollins in a statement following the charges being dropped. "Through that effort, we recently obtained additional information pertaining to the materiality of Professor Chen's alleged omissions in the context of the grant review process at issue in this case."
"As United States Attorney, I will always encourage the prosecutors in our office to engage in this type of rigorous and continued review at every stage of a proceeding," Rollins said. "Today's dismissal is a result of that process and is in the interests of justice."
"It is difficult to reconcile and accept the pain and anguish that such good people, people we are proud and fortunate to know, have endured over the last two years," said MIT President L. Rafael Reif in a statement sent to The College Fix.
"And of course, this case has also caused ongoing distress throughout our community, particularly for Gang's friends, students and colleagues, and for those across MIT and elsewhere who are of Chinese descent."
"Having had faith in Gang from the beginning, we can all be grateful for a just outcome to a damaging process," said Reif. "We are eager for his full return to our community."
Chen said the dismissal of the charges was evidence that the FBI's "China Initiative" program, used to investigate potential spies, has run its course.
"While I am relieved that my ordeal is over, I am mindful that this terribly misguided China Initiative continues to bring unwarranted fear to the academic community and other scientists still face charges," Chen said in a statement.
Chen's position was quickly picked up by Chinese Communist Party-supporting media like the Global Times, which said the MIT case was evidence the China Initiative was "self-destructing."
Li Haidong, a professor at the Institute of International Relations of the China Foreign Affairs University, told the Global Times that the dismissal shows that the China Initiative is a "witch hunt," and, in the paper's words, a "self-destroying project that undermines US scientific research capability and international image."
The China Initiative website maintained by DOJ lists 58 arrests and prosecutions as a result of its work. But the Chen arrest remains as an example on the website, despite charges being dropped. The site has not been updated to reflect his exoneration.
A spokesman for the DOJ did not immediately respond to a request by The College Fix to comment on future plans for the China Initiative.
Nonetheless, the China Initiative has numerous victories under its belt.
In November 2020, former Ohio State University researcher Song Guo Zheng was arrested in Anchorage, Alaska attempting to board a flight to China. According to the Department of Justice, he was carrying three large bags, one small suitcase and a briefcase containing two laptops, three cell phones, several USB drives, several silver bars, expired Chinese passports for his family, deeds for property in China and other items. Zhen later pleaded guilty, receiving 37 months in prison.
In December 2021, Harvard Professor Charles Lieber was found guilty of hiding his involvement in a Chinese government-sponsored "Thousand Talents" program. Lieber has yet to be sentenced.
But the Chen MIT case, coupled with another case from the University of Tennessee-Knoxville that saw charges against Professor Anming Hu dropped after a mistrial was declared, has led academics to decry the China Initiative as "racist."
After a Stanford professor was arrested for secretly working as an agent of the People's Liberation Army, school President Marc Tessier-Lavigne and Provost Persis Drell wrote a statement defending the school's information security protocols, suggesting concern over the school's ties to China creates "a questioning of people within our community based on their country of origin or their heritage."
"As California's own dark history teaches us, an automatic suspicion of people based on their national origin can lead to terrible injustices," wrote Tessier-Lavigne and Drell, quoting a recent statement from administrators from the University of California-Berkeley.
John Demers, a former National Security Division head, told The Washington Post the government should consider new strategies, such as changing the initiative's name and granting immunity from prosecution to academics who voluntarily disclose ties to Chinese government research. Such an approach would provide visibility into Chinese government talent programs, while avoiding accusations of overcriminalization and maintaining the trust of academic institutions, Demers told the Post.
ALERT: Check out our new Campus Cancel Culture Database!
IMAGE: Massachusetts Institute of Technology
Like The College Fix on Facebook / Follow us on Twitter