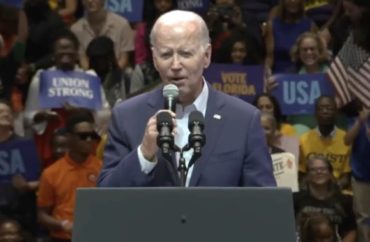 ANALYSIS: President Joe Biden continues to make false statements about his college record
President Joe Biden once again implied he was a student at a historically black college.
"It's great to be at Florida Memorial University, one of the nation's great [Historically Black Colleges and Universities]," Biden said during a rally on Tuesday night. "I'm a big fan of HBCUs, I got my start at one of those other HBCUs, Delaware State University."
The university hosted him for an event on the importance of voting which was really about campaigning for Democratic Senate candidate Val Demings and Democratic gubernatorial candidate Charlie Crist. Christina Pushaw, the rapid response director of Governor Ron DeSantis' campaign, flagged the comments by Biden on her Twitter.
President Biden never attended Delaware State University, but he did attend the University of Delaware. He also never was accepted to the United States Naval Academy, as he claimed in May.
Biden has previously claimed he "got [his] start at Delaware State University." "I got started out of an HBCU, Delaware State," Biden said in 2019.
Reuters covered for Biden in 2020 with a "fact check" that argued that he was referring to starting his political career there, because the university supported him in his 1972 U.S. Senate election.
Biden has a history of making false statements, and even specifically telling students at HBCUs things that are not true.
"In January, Biden told students of historically black colleges in Atlanta that he was arrested during civil rights protests," even though there is no evidence of this, the New York Post reported.
The president dropped out of the 1988 presidential primaries after being caught plagiarizing speech content from a British politician named Neil Kinnock. That's not to be confused with his plagiarism in law school at Syracuse University. Biden has also falsely claimed, multiple times, that the driver who tragically killed his first wife had been drinking.
MORE: Student government hosts 'non partisan' GOTV event with Chelsea Clinton
IMAGE: PBS News Hour
Like The College Fix on Facebook / Follow us on Twitter