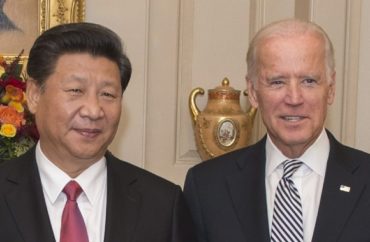 Even Mitt Romney doesn't like them
President Joe Biden faced allegations during the 2020 election that he had close ties to the Chinese Communist Party.
A former business partner to Biden's brother and son alleged that Biden stood to profit from a deal with Chinese businessmen.
Regardless of the political and business claims against Biden, he has clearly come through for China in a recent move, withdrawing a rule that would require K-12 schools and U.S. universities to disclose their relationships with Confucius Institutes.
Confucius Institutes are propaganda arms for the Chinese Communist Party. Under the guise of promoting cultural awareness or offering Mandarin classes, the CCP uses the institutes to push its agenda. The College Fix has covered this issue extensively, including here and here.
However, President Biden withdrew the rule as part of his broader commitment to freeze all recent executive orders and regulations from the Trump administration.
The rule, proposed on December 31, is titled "Establishing Requirement for Student and Exchange Visitor Program Certified Schools to Disclose Agreements with Confucius Institutes and Classrooms." The Office of Management and Budget website no longer lists the text of the proposed regulation, withdrawn on January 26.
However, reporting on the rule at the time from Axios shows that Trump wanted to prevent schools that fail to disclose the details of their relationships with the institutes from accepting students under a visa program. In August, the Trump administration designated the institute headquarters as a "foreign mission" of China.
The rule would also apply to any other cultural institutes or student groups, such as Chinese Students and Scholars Associations, that are funded directly or indirectly by China, according to a Department of Homeland Security official.
Schools who violated the rule would see their "Student and Exchange Visitor Program certification" denied.
Republican lawmakers denounced the move, with New York Representative Elise Stefanik trying to block funding to universities that establish the propaganda centers.
Democrats blocked my proposal to stop taxpayer $$ going to institutions with ties to the Chinese Communist Party, which we know is censoring free speech, engaging in genocide, & influencing American academia!

Democrats put China First and America LAST! ⬇️ https://t.co/NVkUyM9q7t

— Rep. Elise Stefanik (@RepStefanik) February 10, 2021
"We must prevent American taxpayer dollars from going to institutions that have partnerships with any entity owned, controlled, or organized under the laws of the Chinese Communist Party," Stefanik told Fox News.
Even Senator Mitt Romney seemed to agree with Trump on the threat. "Confucius Institutes are merely a tool for the Chinese Communist Party to spread propaganda to our youth and they have no place in Utah schools or our country," Romney, said, according to Fox News. The Utah legislature may prohibit the centers at state universities.
MORE: Alabama lawmaker wants to shut down Confucius Institutes
IMAGE: Wikimedia Commons
Like The College Fix on Facebook / Follow us on Twitter