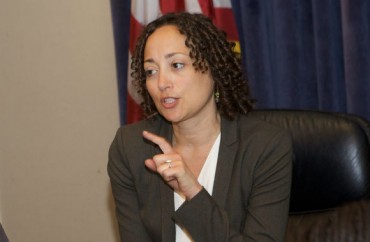 Senator Richard Burr pressed her on if she supports due process for accused students
Catherine Lhamon's (right) work in President Barack Obama's administration on Title IX issues may have won her praise from liberal groups and organizations representing alleged and confirmed victims of sexual assault, but it drew criticism from the ranking member of the Senate's education committee.
President Joe Biden has nominated Lhamon to lead the federal Office for Civil Rights in the Department of Education, the same position she held under Obama. But Senate Republicans and due-process advocates have questioned her position on the rights of accused students.
Republican Senator Richard Burr said he is concerned that Lhamon "will charge ahead unraveling significant pieces of the previous administration's Title IX rules." He made the comments during a July 13 Senate Health, Education, Labor and Pension Committee meeting.
He is also concerned that Lhamon had said that the Trump administration Title IX rules allowed people to "rape and sexually harass students with impunity."
"That's plain offensive," Burr said. "I imagine she was taking aim at the due-process parts of the [Title IX] rules."
The North Carolina Republican and top Republican on the HELP Committee pressed Lhamon on her stances during the question and answer later in the hearing.
When asked if she believed in due-process for students, Lhamon said students in private schools should have "fair process" and the "umbrella" of due-process applies to public university students.
Burr asked Lhamon a series of questions about what rights she believed accused students should have when accused of Title IX violations. The OCR nominee responded with an affirmation of what the "current" policies say and said she would enforce Title IX rules.
She did not make a commitment to advocate for keeping those changes made under Secretary of Education Betsy DeVos.*
"In the current context, the Title IX language that is operational now…. does afford" students the right to see the evidence presented against them before being asked to "defend themselves." She shared a similar answer when asked if students should be allowed to view evidence that could "clear them of charges."
"The current regulation entitles [college students] to a hearing," Lhamon said when asked. She again referenced the "current regulation" a "right of cross-examination" through a representative, such as an attorney.
"I won't be in control," of what Title IX regulation changes are made, when Burr asked her what rules she would potentially change.
She also said there "isn't a presumption of innocence" under the Trump administration rules, a point that Burr later contested. He also had her confirm that Lhamon, while at OCR under President Obama, never conducted "notice or comment rule-making."
Former education secretary said she would treat everyone fairly
The OCR nominee's former boss, Secretary of Education Arne Duncan, praised her in a recent opinion piece in The Hill.
Duncan said that Lhamon "was someone who listens to all sides, works closely with the staff and experts who bring decades of experience to the work at hand, and then takes action."
He said "there is no better person to lead the Office for Civil Rights than Catherine Lhamon."
"If she's confirmed," Duncan said,"the civil rights dreams and aspirations of tens of millions of students will move closer to fulfillment."
MORE: Biden DOE pick criticized for not investigating sexual assault at Columbia
IMAGE: U.S. Department of Education/Flickr
Like The College Fix on Facebook / Follow us on Twitter