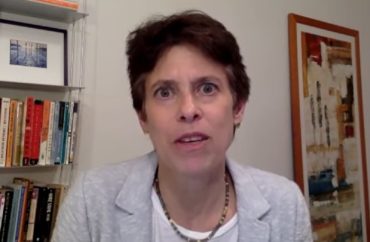 UPDATED
Filed state and federal complaints against Suzanne Goldberg
A medical school professor at Columbia University said President Joe Biden's appointment of Suzanne Goldberg (right) to work on Title IX efforts at the Department of Education as an assistant secretary is a mistake.
Raymond Givens, a cardiology and medical professor at the Ivy League University, said that Goldberg did not properly investigate complaints of sexual assault while serving as the university's Executive Vice President for University Life. Goldberg also taught law and founded the university's Sexuality and Gender Law Clinic.
Givens filed complaints with the New York State Attorney General Civil Rights Bureau and the federal Office of Civil Rights at the Department of Education, where Goldberg is now in charge.
"The [OCR] complaint requests an investigation into race and gender-based discrimination and civil rights and Title IX violations at Columbia," Givens said in an email to The College Fix. He shared with The Fix copies of his complaints. "It also requests that Suzanne Goldberg be recused from any investigation and that there also be an investigation into how Goldberg was vetted for her current role and appointed despite her history at Columbia."
"I have been spoken [sic] with student sexual assault survivors who all tell a consistent story of the university obstructing their attempts to obtain justice," Givens wrote in his complaint to New York's Attorney General in April. "Striking grad student workers are asking for the university to allow a neutral and independent party to handle grievances related to sex assault and gender-based harassment, which the university is resisting."
In his complaint, he raised the possibility that the media does not want to report on it because Columbia awards the journalism Pulitzer Prizes. "It has been difficult to gain media coverage, possibly in part because Columbia University awards the Pulitzer Prizes," Givens said.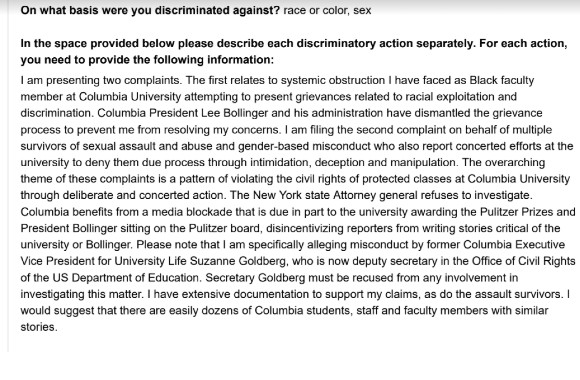 He said he has "grave concerns" about how the university handles Title IX complaints and civil rights violation allegations.
"Based on the information you provided, we are unable to investigate this matter because it
does not appear to allege a pattern or practice of discrimination," an April letter signed by the "Civil Rights Bureau" for the New York AG said. "Individual complaints such as yours fall outside the jurisdiction of the Civil Rights Bureau."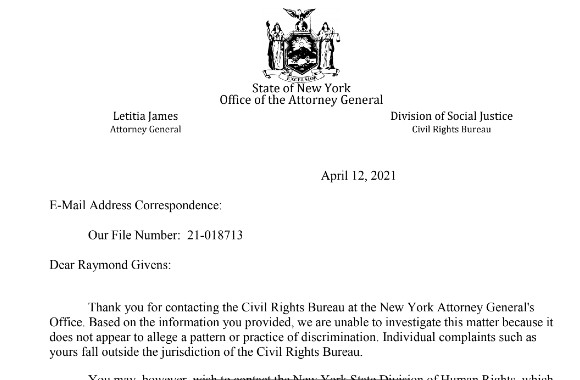 Givens received several more standard, form letter responses dismissing his concerns after he followed up on the denials.
Givens requested from the federal Office of Civil Rights "an investigation for a pattern of rights violations at Columbia University and a clarification of the structure of grievance mechanisms and their independence from the office of the university president."
"Deputy Secretary Suzanne Goldberg must be completely excluded from any such investigation, as she has been implicated in the wrongdoing," Givens said.
He told The Fix that the DOE has asked for more information but there has not been follow-up responses since he sent that information several weeks ago.
While the Department of Education seems at least open to learning more, the silencing that Givens alleged continues.
He shared that "one of the Columbia survivors I've been in touch with was muted during her testimony [at a Title IX hearing] for mentioning the name of Suzanne Goldberg."
University spokesperson Caroline Adelman provided The Fix with a link to Title IX reports from Goldberg's time at the university when asked for comment.
In response to a follow-up question about Goldberg's track record on investigating sexual assault, Adelman provided The College Fix with a link to a statement from the university in January, praising the appointment.
"We could not be more pleased and proud that she has chosen to bring her considerable talents and expertise to Washington, D.C," the statement said.
MORE: U. Delaware dodges questions about Biden, amid sexual assault allegations
Editor's note: The article has been updated to clarify Goldberg's role at the DOE.
IMAGES: Columbia University/YouTube; Raymond Givens
Like The College Fix on Facebook / Follow us on Twitter