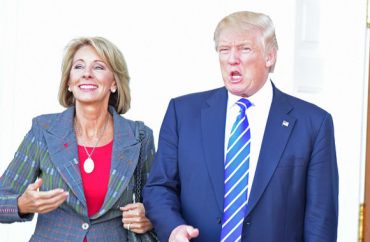 Republicans who visit the historically black Howard University are rolling the dice. Just ask Sen. Rand Paul.
But after Education Secretary Betsy DeVos* visited the Washington, D.C., campus and met with President Wayne A.I. Frederick last month – her first post-confirmation visit to a college – it was Frederick who put the target on his back.
DCist reports that the quad was vandalized overnight Monday with this message:
Welcome to the Trump Plantation

Overseer: Wayne A.I. Frederick
Another student saw anti-Frederick graffiti near the dorms as well.
Graffiti at Howard University called its president an "overseer" at "Trump plantation." https://t.co/KZK3g4g8Zp pic.twitter.com/QW2tCfrBhe

— DCist (@DCist) March 1, 2017
A student group that issued demands after Frederick met with DeVos, HUResist, has denied any role in the graffiti, and students interviewed on the quad said it crossed the line:
"I see the students' need to protest, but this is just clear vandalism," says Francisco Joseph, a sophomore at Howard. "I'm never about slandering people—this went a little bit too far." …

"He's in a tough position. Some students feel strongly that Frederick should take a stance against Trump, but I feel as if they're taking the wrong route," says Taylor Washington, a second-semester sophomore. …

Washington says that "overseer" is a huge insult in the African American community. "I just feel like it's a little dramatic," she says.
Howard drew more than $200 million in federal funding for the university and its hospital last year, so a personal connection with DeVos is good for its coffers.
DeVos issued a statement Monday evening, after a White House meeting with historically black college and university (HBCU) leaders, calling HBCUs the "real pioneers" of school choice because they "took it upon themselves to provide the solution" for the "absence of opportunity" for black students.
Following outrage over her failure to note Jim Crow's role in the rise of HBCUs, DeVos issued a series of clarifying tweets Tuesday.
Providing an alternative option to students denied the right to attend a quality school is the legacy of #HBCUs.

— Betsy DeVos (@BetsyDeVosED) February 28, 2017
But your history was born not out of mere choice, but out of necessity, in the face of racism, and in the aftermath of the Civil War.

— Betsy DeVos (@BetsyDeVosED) February 28, 2017
We need more good schools. We need more good teachers. And no child should be denied the opportunity to enter a great school. Not one.

— Betsy DeVos (@BetsyDeVosED) February 28, 2017
Like The College Fix on Facebook / Follow us on Twitter
IMAGE: a katz/Shutterstock