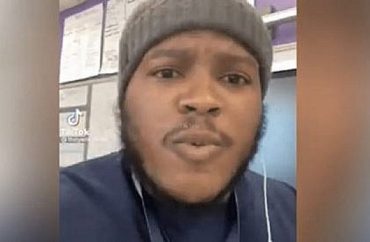 A Florida middle school teacher is now on administrative leave and likely to be terminated after making a series of videos involving his students — one of which shows white students acting as black students' servants.
Another of English teacher Ethan Hooper's clips involves his class repeating after him a rhyme about how Florida (allegedly) is banning books, Florida's Voice reports.
"I shall not read books," Hooper (pictured) said, with his students immediately repeating the line. He follows up with "Books are bad" and "If I read, it's approved by the feds."
In the clip, Hooper, garbed in a "Black Teachers Matter" T-shirt, also mockingly excoriates various Howard Middle School students for reading "Harry Potter" (because witchcraft), a book with a black boy playing basketball on the cover ("Hey hey hey! A black boy? No!" Hooper tells the kid) and "Holes" ("I'm gonna dig up a hole and bury this book in it," Hooper says).
He also chides a student for reading … a dictionary.
Florida teacher makes students participate in a series of tiktoks mocking the FL Dept of Education for removing books from schools containing pornography, CRT, and gender ideology pic.twitter.com/i8BzdhFsbw

— Libs of TikTok (@libsoftiktok) February 17, 2023
MORE: Educators are distressed about Florida's push for 'patriotic' education
A shorter clip shows white students removing black students' jackets as they enter the room, feeding them, and worshiping them while on their knees:
This Florida teacher made students participate in a skit for black history month where white students act like servants for black students pic.twitter.com/g29SgNd3pn

— Libs of TikTok (@libsoftiktok) February 17, 2023
Hooper's videos were in reaction to Florida Gov. Ron DeSantis's move to oust books from schools — but those that contain pornography, violence and other material inappropriate for various grade levels.
In response to the videos, Orange County Public Schools Superintendent Maria Vazquez said "I am appalled at the behavior and judgment of the teacher who posted the inappropriate videos using his students as political props […] This is not free speech — it is the exploitation of our students for political purposes and it will not be tolerated in our school district."
District Media Manager Michael Ollendorff added "Any employee of who creates videos or other content with students in an effort to exploit them for political purposes will be immediately removed from the classroom, placed on administrative leave and swift action will be taken to terminate employment."
According to his Linkedin profile, Hooper has been with the Orange County Public Schools for five-and-a-half years, but this is his first year as an English and language arts teacher at Howard Middle School. He is a 2018 graduate of the University of Central Florida.
MORE: Pagan alumni of Florida's New College upset at Gov. DeSantis's 'disruption' of the school
IMAGE: johnnyA99 / Twitter screencap
Like The College Fix on Facebook / Follow us on Twitter