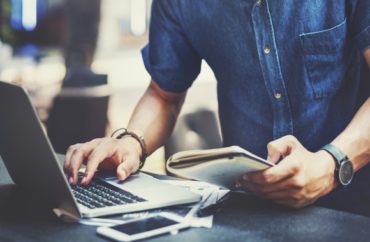 A black parents group in Ontario, Canada has launched a "School Racism Reporting Tool" where private and public school staff can anonymously report incidents of racism.
According to its website, the "vision" of the Parents of Black Children organization is "to effectively engage education leaders, to create an equitable and peaceful educational experience, free from oppression and anti-Black racism for students of African Canadian descent."
The site's Reporting Tool page claims Ontario schools are not "safe spaces" for black students and staff, and that anti-black racism "is rampant." Indeed, the group set up this page because it says province school boards have noted they can't "properly track complaints of anti-Black racism."
As noted, the tool allegedly is for educational staff, but there doesn't appear to be any way to guarantee only staff can use it. Also, the last box of the tool reads "If you are open to being contacted about your story, please leave your name and email below. This information will be kept strictly confidential" (emphasis added). In other words, it appears virtually anyone can make a totally anonymous claim.
There's also the subjective nature of the "incident" questions: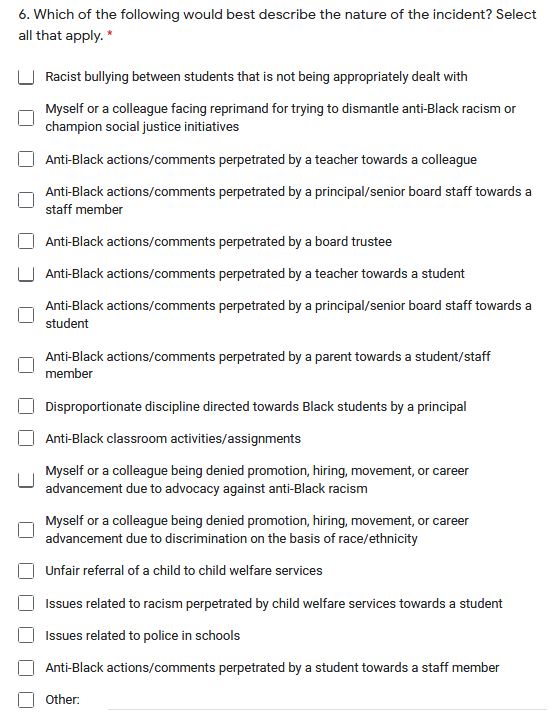 How does one define "anti-Black"? What is meant by an "unfair" child welfare services referral? What sort of "issues" relating to police in schools?
MORE: From the campus to American culture: Bias reporting spreads to Yelp
For parents, the PoBC has a "Systems Navigator" which will "provide support" to parents as they deal with issues concerning their children. In a seeming contradiction, the Navigator claims it will "act as a neutral third party," while at the same time promising to "stand beside" parents "no matter" the issue (such as suspensions, "unfair" grades and "incidents of anti-Black racism and bullying").
All of this did not go unnoticed on the Parents of Black Children Twitter page:
What could possibly go wrong?

— Q (@PithyThought) March 3, 2021
Salem witch trials are alive and well

— Sammy Walter (@SammyWalter16) March 3, 2021
This won't be abused and backfire horribly, I'm sure

— brisby (@midwit100) March 3, 2021
What could go wrong? How does one mitigate against risk of false accusations? Stop interacting with blacks entirely?

— Ray F. (@RayFraySlay) March 3, 2021
PoBC also has ten demands on its website, which have been sent to the Ontario Ministry of Education. These include:
— Decolonize The Curriculum. We demand that all Ontario curriculum be decolonized to prioritize Black history. Black Canadian experiences must be built into all school curriculums, K-12. …

— Fund Education System Navigators. We demand that the Government of Ontario provide funding for Black-founded, Black-led, Black-serving community groups to hire Education System Navigators in all public boards, including Catholic boards, to help Black families advocate and navigate the education system.

— Police-Free Schools Province Wide. Schools across Ontario, at all educational levels including post-secondary, be mandated police-free immediately. …

— Anti-Racism Courses in Faculties of Education. We demand that universities and colleges with Faculties of Education and Early Childhood Education programs be required to make trauma-informed, anti-racism, anti-oppression, and equity-based strategies for teaching mandatory parts of their curriculum and course requirements for graduation.
PoBC also wants districts to collect race-based academic and discipline data which, the Toronto Star reports, it has demanded for some time. A Toronto District School Board spokesperson said she believes her district is the only one which currently collects such information.
MORE: U. investigates bias within its bias reporting system — and finds bias
IMAGES: Rax Pixel / Shutterstock.com; PoBC Reporting Tool screencap
Like The College Fix on Facebook / Follow us on Twitter