He also faces an investigation by campus administrators
Charles Negy, an associate professor of psychology at the University of Central Florida who tweeted about "black privilege," is facing an aggressive campaign to get him terminated from his job after a few of his tweets were deemed racist by students and administrators.
He now also faces allegations of classroom discrimination.
The outrage caused by his tweets in early June led to the hashtag "#UCFfirehim" to trend and made national headlines. A petition demanding he be fired has more than 30,000 signatures.
A protest Saturday in front of his home drew carfuls of students and prompted police protection, according to the professor.
"The cars drove by with a megaphone shouting 'Black Lives Matter' and 'Negy must resign' while blowing their horns nonstop," Negy told The College Fix in an email Monday. "That went [on] for 30 minutes. That's not 'protesting.' That's bullying, harassment, and intimidation. That occurred after they had spent three hours on foot at the entrance of my neighborhood."
He said several sheriffs were called out to protect his house.
Another protest against Negy took place Sunday at UCF, the Orlando Sentinel reports, noting "the protesters — comprised mostly of students and alumni — held signs that read: 'If UCF Keeps Racist Teachers, Then UCF=Racist,' 'UCF Fire Negy. He is leaving a negative impact on your institution,' and 'Don't Let Racists Teach.'"
Negy has taught at the University of Central Florida for 22 years. He earned tenure in 2001. He is author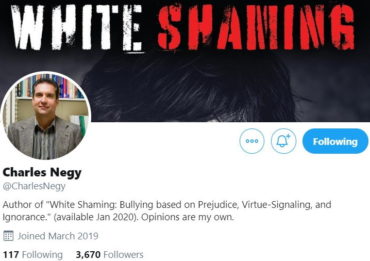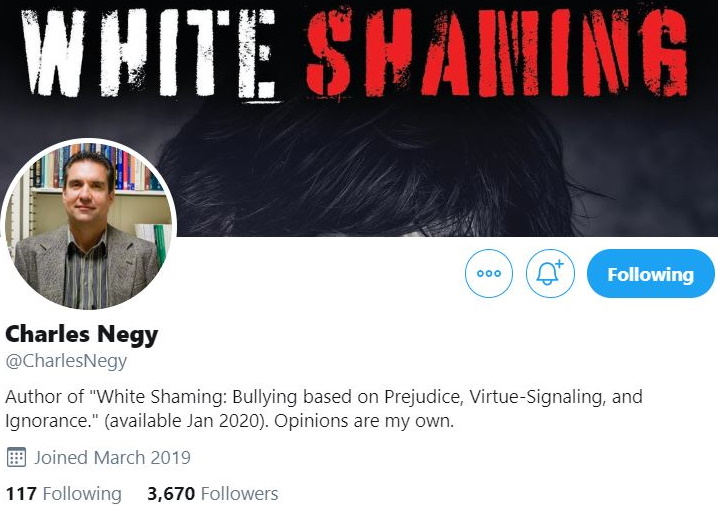 of the recent book: "White Shaming: Bullying Based on Prejudice, Virtue-signaling, and Ignorance."
The recent tweets in question, which came during a time when the nation was gripped with racial tension and protests after the death of George Floyd at the hands of a white police officer, asserted the existence of "black privilege" and asked the question of whether systemic racism would still be claimed if African Americans acted in the same manner as Asian Americans.
"If Afr. Americans as a group, had the same behavioral profile as Asian Americans (on average, performing the best academically, having the highest income, committing the lowest crime, etc.), would we still be proclaiming 'systematic racism' exists?" he wrote on Twitter.
In another tweet, he wrote, "Black privilege is real: Besides affirm. action, special scholarships and other set asides, being shielded from legitimate criticism is a privilege. But as a group, they're missing out on much needed feedback."
Although he said he stands by his tweets, both tweets have since been deleted by Negy because he said he was receiving hundreds of hate responses per day and removing them helped taper that down.
As for the university's probe, Negy told The Fix on Monday he has not been contacted by his superiors yet and as far as he knows is still scheduled to teach this fall.
In defense of his tweets, Negy said he teaches a cross-cultural psychology class that examines some of the questions he asked.
"Most of what I cover (in the course) is 'neutral,' but I do reserve a section at the end of each group where I address challenges or problems that disproportionately affect the group being discussed," Negy said. "No matter how gentle I try to address some of those challenges, people from all groups, including Whites, occasionally are offended. But the purpose of a university is to explore and debate ideas–even ideas that make some people uncomfortable; even ideas that some people find offensive."
Negy added that Twitter is different because there is limited space to raise questions or debate a topic.
"The first tweet was a sincere question: When or how will we know when the U.S. has eradicated 'systemic racism?' What is the marker we will use for declaring systemic racism no longer exists?" Negy said. "In regards to me having used Asian Americans as the comparative group, why can't we compare other groups with Asian Americans? Why are Whites always the 'gold standard' by which we compare everyone?"
Regarding his other controversial tweet on black privilege, Negy said it was in response to an article someone else had written that he thought made valid points.
"Perhaps I should not have used the word 'privilege.' I could have said there are advantages to being a minority in the U.S. But we'd simply be playing a game of words. The point is still the same, there are benefits/advantages/privileges to being black in the U.S.," Negy said.
"The fact that people feel the need to protect African Americans from scrutiny and will vilify anyone who does–that is a privilege. All groups are of equal value and worth. African Americans are our equals. This country belongs to them as much as it does to any other group. But they are not above scrutiny."
UCF President Alexander Cartwright told students at a town hall meeting June 4 that Negy's tweets do not represent the university's values and officials are conducting an investigation into Negy, according to a transcript of the town hall provided to The College Fix by college spokeswoman Heather Smith.
Cartwright said during the town hall that campus leaders "are acutely aware of the offensive and hurtful Twitter posts that professor Charles Negy has shared on his personal page. These posts do not reflect the values of UCF, and I strongly condemn these racist and abhorrent posts."
"I promise you this is a matter that has our full attention, and we have launched an inquiry to quickly – but fully – evaluate this situation."
The university's leadership also issued a joint statement June 4 to students via email that expressed disapproval of Negy's tweets.
"At all times, we uphold the principles of academic freedom, but we have a responsibility to denounce intolerance," the statement read. "Everyone has the right to their personal beliefs, but no university employee may mistreat or discriminate against students in their classes or in any other setting. No student should fear they will be treated differently because of others' personal biases."
Negy told The College Fix he does not believe the university has the right to police what professors tweet on their personal accounts.
"In a sane world, when folks began to complain about my tweets, the university administration would have said, 'He expressed his views. Now you express yours. Go discuss.' But we no longer live in a sane world, at least not in the U.S. or in Western Europe," Negy said. "White liberals shake in their boots over anyone calling them 'racist,' so they overcompensate by displaying in a variety of ways that they are 'anti-racist.'"
Allegations of racism in the classroom have also surfaced against Negy, which he fully denies.
"I absolutely have never mistreated any student in any way, shape, or fashion based on any irrational reason (including students' race, gender, sexual orientation, etc.)," Negy told The Fix. "I've read some complaints online, so I don't know if they're truly being lodged. But what I've read are complete lies."
For example, he said the allegation that he has lowered students' grades on exams because they are black is easy to refute. He said his classes typically have 100 to 400 students and a paid graduate teaching assistant usually manages the multiple-choice scantron tests.
"The GTAs collect the scantrons, run them through a machine, and input students' grades electronically. I never touch the scantrons really," Negy said.
As for the petition that called on the university to fire Negy, it cites his "abhorrent racist comments he has made and continues to make on his personal Twitter account."
"In addition to racism, Negy has engaged in perverse transphobia and sexism on his account, which is just as reprehensible. While he has a right to free speech, he does not have a right to dehumanize students of color and other minority groups, which is a regular occurance in his classroom. By allowing him to continue in his position, UCF would simply be empowering another cog in the machine of systemic racism," the petition states.
Its author, Eva Oliveri, declined to comment to The College Fix.
MORE: Cornell law prof censured by dean after criticizing Black Lives Matter
MORE: White BLM activists target renowned conservative Prof. Paul Kengor
IMAGE: Patrimonio Designs Ltd / Shutterstock
Like The College Fix on Facebook / Follow us on Twitter