'Admitted to intentionally setting the fire in the second level lounge for attention purposes'
A former Viterbo University student who police say set fire to her dormitory is scheduled to appear in court Wednesday on possible charges.
Police have recommended arson and negligent handling of burning materials charges against Victoria Unanka to the La Crosse County District Attorney Tim Gruenke, according to a copy of the police report reviewed by The College Fix.
But what charges the former student will face remain to be announced.
"[W]e haven't decided on the final charges, but those are the charges she was arrested for. That's all I can say for now," Gruenke told The Fix via email on Thursday, adding that his office will file its complaint on Unanka's June 16 court date, assuming there's no continuance.
The LaCrosse Police Department report states Unanka "admitted to intentionally setting the fire in the second level lounge for attention purposes."
Most of Unanka's actions from the early morning hours of April 18, when the fire was set, were caught on cameras installed in the dorm amid a spree of alleged campus hate crimes.
Unanka told police her motive for setting the fire was that "no one was listening to me anymore," the report states.
The April 18 incident was the culmination of a series of incidents that ignited racial unrest at Viterbo University throughout the spring semester that essentially came to an end when campus leaders announced that probes into the incidents were concluded and a student was expelled.
"President Glena Temple sent a statement to community members Friday stating that an unnamed student has been found responsible by the university for setting fire to a garbage can in a student lounge last month, and that 'procedural steps are underway to expel' the student," reported the La Crosse Tribune on May 7.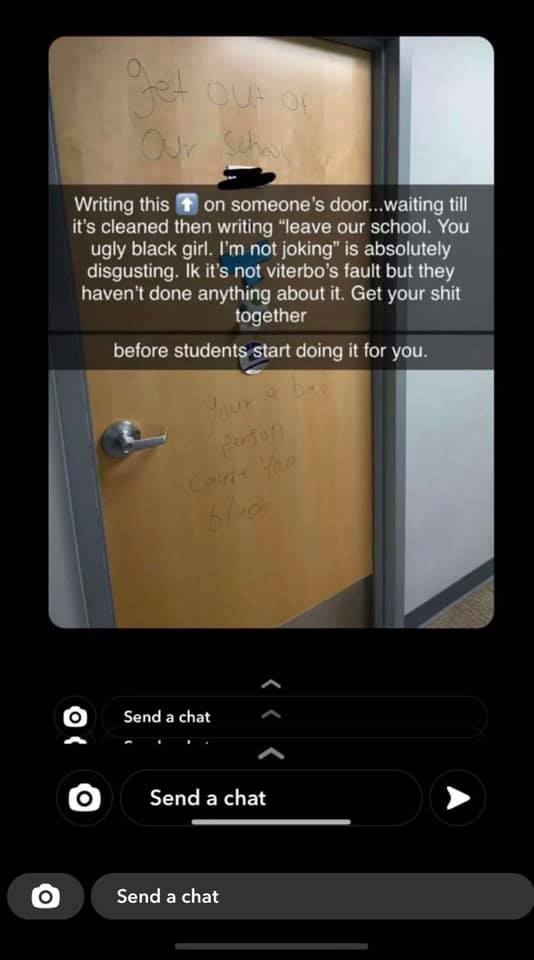 The unrest had launched in March, after a student complained of racial slurs directed against her.
In response, a campuswide demonstration against racism was planned and administrators canceled classes so everyone could participate.
Unanka spoke at the university-endorsed walkout, which attracted hundreds of students and staff.
(Unanka's speech starts at 15:28. She identifies herself as Victoria, a freshman, but it is difficult to make out her comments on the video.)
The investigation was complemented by a prayer vigil, listening sessions, and student-organized activities condemning hate and racism.
Shortly after, an anti-LGBTQ message was found on another student's door. In a public statement, Viterbo condemned the message and pledged "support of our LGBTQA+ community."
A final incident in mid-April saw another racial slur on a women's dormitory restroom door.
Viterbo Executive Vice President of Student Success, Rick Trietley, announced that the university was "working with the La Crosse Police Department and a forensic handwriting expert to examine evidence."
He also reported new security cameras were installed in the dorms, reported WXOW.
Allegedly the slur read, "we will kill you" and "we hate you black people."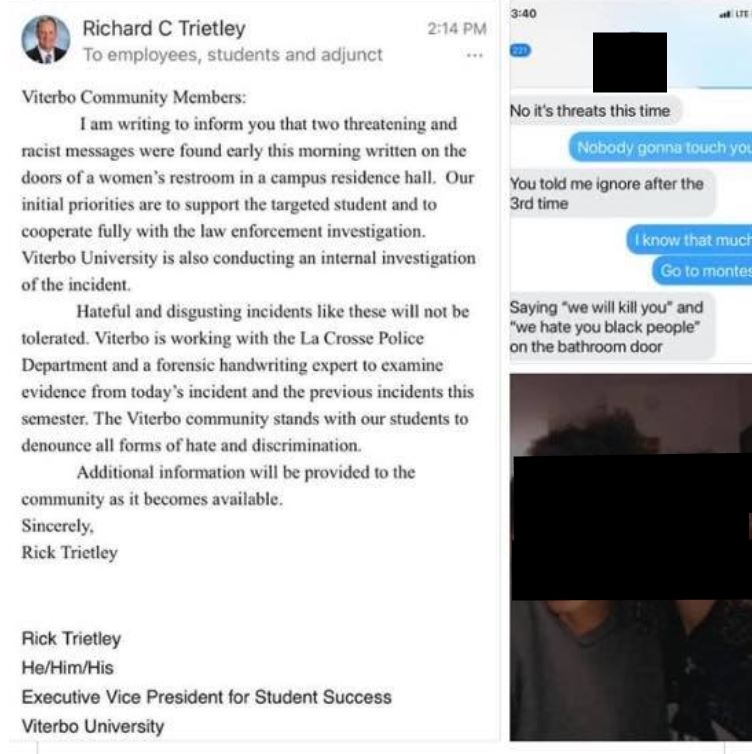 The events at Viterbo culminated in the arrest of Unanka last April for arson.
Last month, President Temple said that the student responsible for dormitory arson had been identified, however, refused to provide the person's name.
Simultaneously, Temple closed the internal investigation into campus racism vandalism and graffiti.
.@Viterbo_Univ was rocked by shocking racist hate crimes, sparking mass protest. Then last week the hate escalated to an arson attack near room of black race activist, Victoria C. Unanka. Following police investigation, the student was arrested. #HateHoax https://t.co/t6tYMU8M95 pic.twitter.com/0xI6rHB8tg

— Andy Ngô (@MrAndyNgo) April 22, 2021
In an email to The College Fix, a Viterbo spokesperson said that "the remaining person of interest is no longer a student."
To date the university has not revealed any connection between Unanka and the slurs found on campus and Temple would not say the same person who set the fire was also behind the graffiti.
"Officials said that the internal investigation into the graffiti, which featured both racist and anti-LGBTQ messages, has also concluded, though they have only identified a 'person of interest,' after a forensic handwriting analysis eliminated several individuals in question," the La Crosse Tribune reported.
But Temple refused to fully connect the dots.
"Despite our best efforts, we may never be able to definitively prove who wrote the hate-filled messages, including both the racist and anti-LGBTQ+ incidents," Temple told the campus community.
MORE: Hate-crime hoax: Black student likely egged her own door, police say
MORE: Black female was behind Instagram account that sent racist messages: police report
Like The College Fix on Facebook / Follow us on Twitter