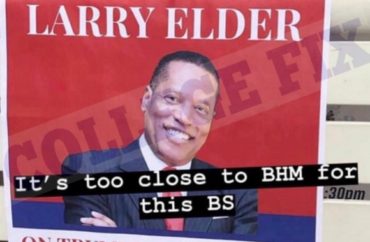 Black students at Chapman University are voicing concern and criticism — and possibly planning a protest — because the school's College Republicans are set to host a conservative black scholar for a speech and the event will take place during Black History Month.
Best-selling author and radio talk show host Larry Elder is slated to discuss "On Trump's Presidency and the Rise of Socialism" Feb. 12 at the private, Southern California university.
Members of the Chapman Republicans began to hear grumblings about their event about 10 days ago, including on social media, with one black student posting on Facebook that the event was "too close to BHM for this BS" and adding "I'm really down to plan a protest y'all hit me up."
More recently, a Feb. 10 article in the student newspaper The Panther detailed more concerns:
Troy Allen, president of Chapman's Black Student Union, told The Panther that she finds the choice to bring Elder, who is black, to campus during Black History Month "disrespectful," adding that unlike political clubs on campus, BSU was not invited to the event, which Roche confirmed.

"I have to give credit where it's due, and I don't want to accuse Chapman Republicans of bringing him here with malcontent, but that in itself is a metaphor for a greater mentality," Allen said. "There are so few black students here at Chapman; it's hard to conceptualize what your black peers are going through if you don't ask them."

Stephen Ragsdale, the vice president of Chapman Republicans, said that although the club has invited other political groups on campus to the event, the aim of the event "isn't really to create a bridge."

"If that happens, then great," Ragsdale said. "It's more just to get an experienced person to do a good job of articulating our values."

Roche, when asked about the timing of the event, said its scheduling during Black History Month was coincidental, but that it's a "great time" for Elder to be on campus.

"Mr. Elder is a very successful person," Roche said. "What a great time for him to come to Chapman, he should be welcomed here any day of the week, any month of the year."

But to Allen, Elder's invitation from Chapman Republicans is "ironic."

"How can you say what's good for the black community when you're not black?" she said.
Ryan Marhoefer, external ambassador of the Chapman Republicans, told The College Fix his group thinks there may be a protest of their event, based on social media scuttlebutt they've seen, but he's perplexed as to why there should be.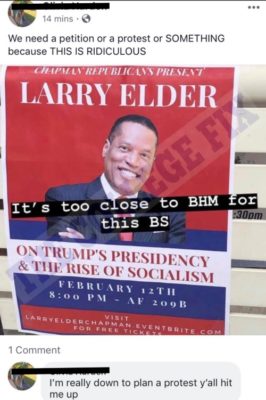 "The protest is peak irony," he said. "How can students be mad that a free-thinking intellectual who happens to be black is speaking during Black History Month? It's clear many students on the left have conflated skin color and ideology and believe they're the same thing."
According to Elder's online bio, he's the son of a janitor and was born and raised in South Central Los Angeles, but he made his way to Brown University, receiving a bachelor's degree in political science in 1974. He then earned a law degree from the University of Michigan in 1977, and opened a law firm. After that, he began a career in media, including as host of the television show "Moral Court."
His books include "The 10 Things You Can't Say in America," "Showdown: Confronting Bias, Lies and the Special Interests That Divide America," and "What's Race Got to Do with It? Why it's Time to Stop the Stupidest Argument in America." He is also a nationally syndicated columnist.
What's more, he's established a nonprofit that supports "groups and individuals offering non-government, self-help solutions to problems of poverty, crime, poor parenting, dependency, and education," according to his online bio.
MORE: Black student complaint about BHM menu gets black staff canned
Like The College Fix on Facebook / Follow us on Twitter