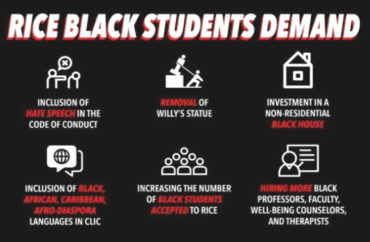 Over the last several years, black college students across the nation have demanded black-only spaces on campuses, arguing it gives them a safe space from systemic racism and microaggressions.
A new set of demands at Rice University echoes that trend.
Fox News has republished the demand document "Tangible Ways to Improve the Black Experience, As Demanded by Black Students_Inaction is Not an Option." The demands aim to "push for the decolonization of Rice University as it specifically pertains to Black students," the document states.
Among the list of demands is the formation of a "non-residential Black House that has all the features of a residential college but is specifically made for Black students and Black organizations to congregate and hold events."
The demand document notes that although the university is in the process of relocating the multicultural center, "we believe it would be best to have a central, safe space that Black students can meet and hangout in anytime of the day."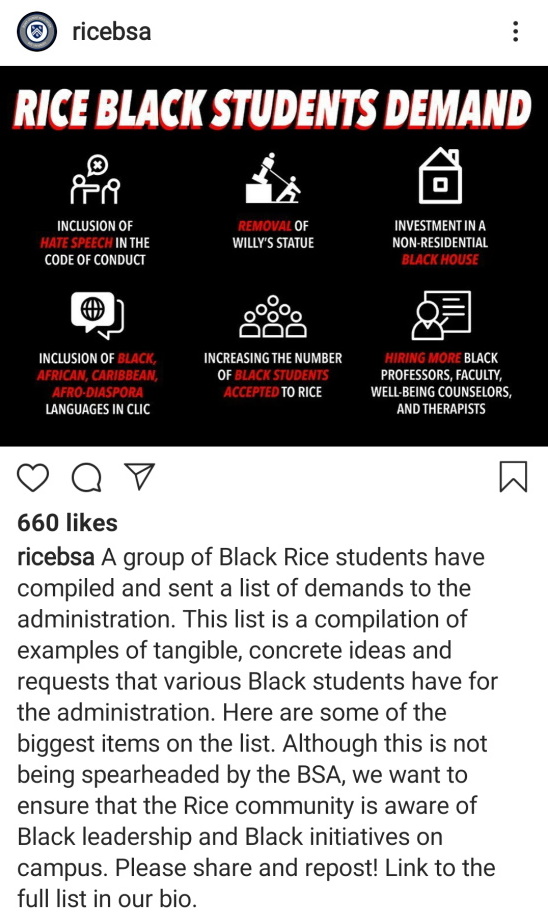 The Rice Black Student Association at the private, Texas institution echoed that demand in a post on its Instagram account that not only called for the Black House, but also:
> "inclusion of hate speech in the code of conduct"
> "increasing the number of black students accepted to Rice"
> "hiring more black professors, faculty, well-being counselors, and therapists"
> "inclusion of black, African, Caribbean, Afro-diaspora languages in [the Center for Languages and Intercultural Communication]
> "removal of Willy's statue"
Fox News also reports that among the demands stemming from Rice University students is "better lighting for ID photos," noting that "many Black students have had significant issues with the photographs that are displayed on our student IDs. … We deserve to be photographed and represented properly without having to make modifications and adjustments."
As for "Willy's Statue," it is named after the university's namesake, William Marsh Rice, who owned slaves.
"His legacy is a constant reminder to many Black students of what Rice University used to be like and what it stood for," the demand document states. The statue was erected in 1930.
Fox News reports that while "the university wouldn't comment on whether a Black House would be funded, the school has put out several statements concerning racial inequality in the wake of [George] Floyd's death. For example, Rice President David W. Leebron told students that the school would be paying 'increased attention to issues of diversity, equity and inclusion at Rice and in our broader society.'"
MORE: Black students demand segregated spaces from white students
MORE: Nearly 200 universities encourage, facilitate segregation
MORE: Black students at UCLA demand $40 million black resource center
IMAGE: Instagram screenshot
Like The College Fix on Facebook / Follow us on Twitter