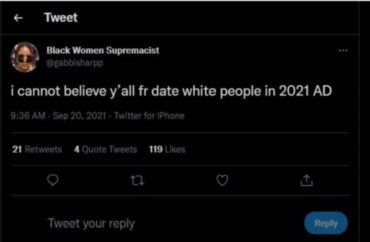 Members of the University of California Berkeley community are calling for the resignation of a student senator after a number of posts demeaning white people surfaced on the student politician's Twitter page.
Gabbie Sharp, who is listed as an independent on her official Associated Students of the University of California bio, is a black student senator responsible for a number of tweets accused of belittling whites and Latinos.
Her social media posts have drawn the ire of her constituents.
In her official bio, Sharp explains that she exclusively advocates for the communities that placed her in power at the school, namely "the Black community, Queer and Trans community, as well as the Berkeley Student Cooperative."
It is this exclusive treatment that proponents of the recall say is unfair to the greater Berkeley community.
"As an elective official, you shouldn't decide who you serve. Gabbi was elected to serve the student body—not to serve particular races or groups in the student body. If a white elective official came out and said 'I only represent and serve white people' then I'd be pissed. That's not how the world works. Elective officials serve the community," one user wrote in the comment section on a post about Sharp in Berkeley's subreddit.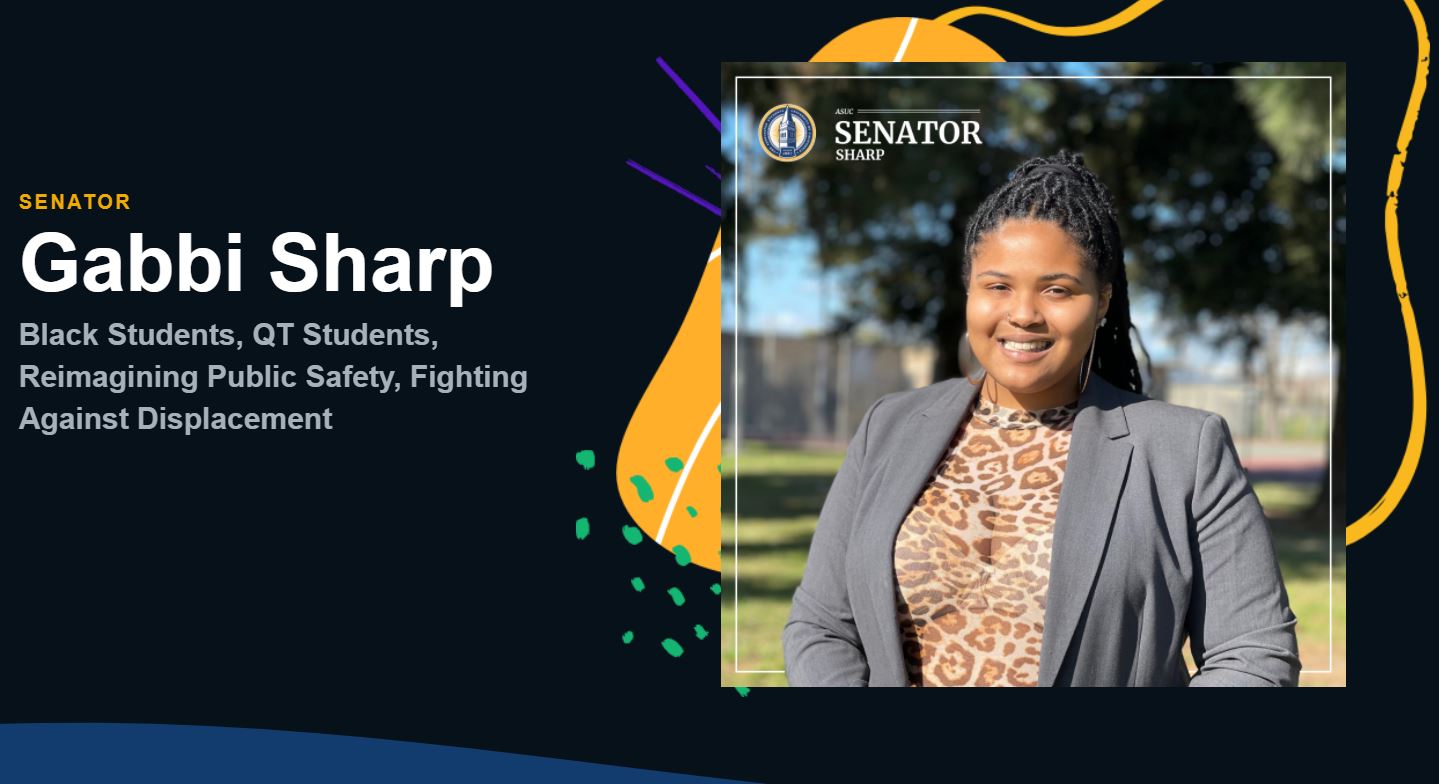 While her Twitter profile is now private, a number of her tweets are archived in a Google Drive folder along with plans to organize a recall, prompting students to now discuss advocating for the senator's resignation.
Sharp's posts — such as "why did this whitino call herself lightskin?," "if you are white and i make you anxious, good," and "I couldn't be an African American Studies professor because I'd be kicking the non Black motherfuckers out for their dumbass thoughts" — are on display in the drive as evidence against Sharp as students contemplate taking steps to attempt to remove the senator.

The recall discussion began on a thread on the school's subreddit r/berkeley where a list of her tweets was posted along with a poll asking the student body whether or not they would support a movement to recall Sharp. The poll was overwhelmingly in the affirmative with 1,500 users in favor of recalling the senator and 320 against.
As commenters on the poll explained, Sharp's comments were unacceptable, despite her race.
"Its racist af lol, all these clowns arguing semantics, 'its not racist cause she doesnt have institutional power'. Well yes she does have institutional power, she governs over the entire student body which includes white people," one user reasoned.
Sharp has made it clear on multiple occasions, however, that the accusations of her constituents are of little concern to her.
At a recent ASUC meeting during which her tweets were discussed, Sharp told the assembly that she is indifferent to the reaction from her peers, so long as her communities felt properly represented.
"My communities are the only reason I am in the senate," Sharp said during the meeting. "I genuinely do not care what other communities think about me because I was not elected to represent them, and as long as both of my communities want me in the senate, I plan to stay."
She also maintained this opinion on social media, once using her official ASUC Instagram account to tell a commenter who reprimanded her for her tweets "i do not care."
UC Berkeley junior Neil Frydendal told The College Fix via direct message that Sharp's comments made it difficult for him to stand behind her.
"For one, I would never feel properly represented by an open racist. And secondly, she has explicitly said that she only represents 'the communities that elected her' and 'couldn't give less of a fuck what anyone else thinks', so I would thoroughly question how anyone could feel represented by her," Frydendal said.
The College Fix was able to reach Sharp via email, who elected no comment on whether or not the meaning of her tweets were misconstrued by the students calling for her resignation.
ASUC did not respond to a request for comment from The College Fix on Monday as to whether or not Sharp's views represent those of the organization.
ALERT: Check out our new Campus Cancel Culture Database!
IMAGE: screenshots
Like The College Fix on Facebook / Follow us on Twitter