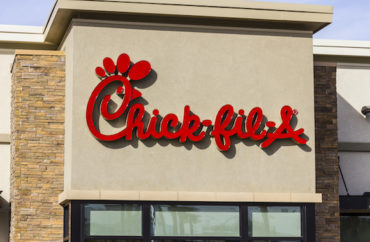 Restaurant has a presence at hundreds of institutions nationwide
In spite of negative press and the efforts of several schools working to keep the popular restaurant off their campuses in recent years, Chick-fil-A remains a steady presence at hundreds of schools across the country.
Particularly since 2012, when the company's president, Dan Cathy, voiced support for "the biblical definition of the family unit," the school has come under fire from LGBT activists and other progressive groups. Last June, Twitter CEO Jack Dorsey was slammed for simply eating at Chick-fil-A. LGBT organizations have accused Chick-fil-A of donating money to "hate groups." Last April, The New Yorker covered the restaurant's expansion with an article titled "Chick-fil-A"s Creepy Infiltration of New York City," with the author unfavorably noting the chain's "pervasive Christian traditionalism."
The perception that the restaurant is anti-LGBT has resulted in numerous schools refusing to allow Chick-fil-A to open restaurants on their campuses. In 2015, the Student Government Association at Johns Hopkins University said that bringing Chick-fil-A to campus would constitute a "microaggression." Fordham University, a Catholic school, rejected Chick-fil-A in 2017 because of backlash from students. Emory University kicked an existing Chick-fil-A off campus several years ago.
The most recent incident occurred in November at Rider University in New Jersey. The school issued a statement indicating it would not allow Chick-fil-A to operate on campus "based on the company's record widely perceived to be in opposition to the LGBTQ+ community."
"That decision required a difficult assessment of competing interests. We sought to be thoughtful and fair in balancing the desire to provide satisfying options for a new on-campus restaurant while also being faithful to our values of inclusion…Ultimately, we decided to lean in the direction of creating a welcoming environment where differences can be appreciated and where each individual can expect to experience dignity and respect," the school's statement read. A dean at Rider stepped down in response to the school's decision.
Restaurant still on campus in over thirty states
Despite the sustained criticism, Chick-fil-A continues to thrive. The franchise has nearly 300 campus locations in 34 states and Washington D.C. This even includes schools that have been ranked among the 20 "best colleges for LGBT students," such as the University of Texas at Austin and the University of Maryland College Park.
The College Fix reached out to both of those schools for comment on the restaurant's presence on their campuses. Natifia Mullings, a spokeswoman for the University of Maryland, said the school did not wish to comment on the matter. Shilpa Bakre, a spokeswoman for the University of Texas at Austin, indicated that Chick-fil-A had not experienced any pushback on campus. "I am not aware of any issues related to this at UT," she said.
Both the LGBT Equity Center at the University of Maryland and the Gender and Sexuality Center at the University of Texas at Austin failed to reply to The Fix's queries.
The College Fix also reached out to the University of Kentucky, New York University and Georgetown University, all schools where the restaurant has a presence, to ask if either if the universities had witnessed or received backlash for Chick-fil-A's location on campus. A spokesman from the University of Kentucky said the school did not wish to comment on the matter, while Georgetown and New York University failed to reply to The Fix's queries.
Chick-fil-A also failed to reply to The Fix's queries. The organization has defended itself against the above-listed criticisms in the past. Last November a Chick-fil-A spokesperson told CBS: "[O]ur restaurants and licensed locations on college campuses welcome everyone…We have no policy of discrimination against any group, and we do not have a political or social agenda."
Though some universities say Chick-fil-A's food and reputation are not popular among college students, Chick-fil-A's success indicates that many students disagree. One such student was elite football recruit Cassanova McKinzy, who said he chose Auburn University over its rival Clemson University in part because Auburn had Chick-fil-A.
In December, Business Insider reported that Chick-fil-A was on track to become the third-largest restaurant chain in America.
MORE: Fordham University rejects proposal to open Chick-fil-A
MORE: Chick-fil-A is more selective than Harvard about who it lets in
IMAGE: Jonathan Weiss / Shutterstock.com
Like The College Fix on Facebook / Follow us on Twitter