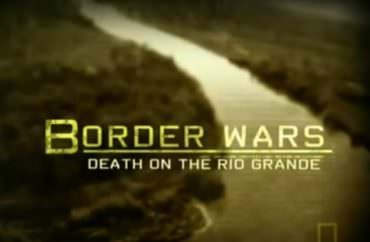 Reality TV shows about the U.S. and Canadian border agents are almost 'propaganda,' professor says
Editor's Note: This is the fifth in a series of articles reporting on the American Studies Association's annual meeting, an academic conference held Nov. 9-12 in Chicago.
CHICAGO – A "border studies" professor says she is upset with National Geographic for two of its reality tv shows which she contends exalt border patrol agents in various ways.
The pair of reality television shows portraying border agents on the U.S.-Mexico border and U.S.-Canada border could be considered propaganda, the professor said at a recent academic conference.
Anita Huizar-Hernandez, a professor at the University of Arizona, said editing techniques used in two television shows, "Border Wars" and "Border Security: Canada's Front Line," help perpetuate popular stereotypes that have emerged about the two borders.
Huizar-Hernandez is an assistant professor of bordier studies, a concentration the University of Arizona says on its website "investigates the heterogeneity and hybridity that both emerge from and shape the cultural and linguistic practices and production of borderlands."
Speaking at the American Studies Association's annual meeting, recently held in Chicago, Huizar-Hernandez said audio and visual techniques employed in "Border Wars" portray the U.S.-Mexico border as a place of criminality while "Border Security: Canada's Front Lines" depicts the U.S.-Canada border as a hub of commerce.
The professor said the shows, which air on National Geographic and spotlight the day-to-day work of border agents in the U.S. and Canada, guide their viewers to see their presentations as factual and accurate since they are deemed as "reality" tv.
However, Huizar-Hernandez said the shows' post-production editing is "inherently pedagogical" and can further depict the popular stereotypes attributed to the two borders.
For example, the professor said the pilot episode of "Border Security: Canada's Front Lines," shows a "breeziness" in which the show was edited.
Even as the Canadian border agents deal with tense and criminal situations, Huizar-Hernandez says the show has a light-hearted feel. The professor attributed this to the editing process and additions such as "playful" narration and cheerful music that she described as a "carefree approach" to immigration issues.
Meanwhile, Huizar-Hernandez said "Border Wars" takes an opposite approach by highlighting the seriousness of the work completed by the U.S. border agents.
Post-production editing portrays the actions of border agents in a positive light by depicting them as rescuing migrants from harm and running from and toward danger in their quest to protect the homeland, according to the scholar. She also said the show includes narration that's similar to other serious law enforcement reality shows such as "Cops."
She pointed to a scene in which agents are depicted as saving a pair of girls from sex trafficking, despite what Huizar-Hernandez said was a lack of evidence that the two girls were in fact victims.
Huizar-Hernandez said both shows and their use of post-production editing "blur the lines between a reality television show and a public relations campaign that comes dangerously close to propaganda."
MORE: Professor says colleagues should fight against 'radical militarization of white men'
IMAGE: TV Time/YouTube screenshot
Like The College Fix on Facebook / Follow us on Twitter