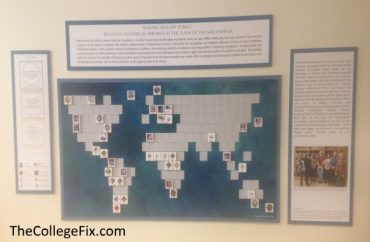 Topic has to do with ongoing systemic wrongs, prof says
CHESTNUT HILLS, Mass. – A class project at Boston College aims to spotlight the "global phenomenon" of governments and organizations attempting to make amends for what are seen as "historical wrongs."
The exhibit, "Righting Historical Wrongs at the Turn of the Millennium," is the latest installment of the Jesuit university's "Making History Public" series and is on display this semester in school's history department.
The course's professor, Franziska Seraphim, said the topic came out of her own research and past teaching. The project, part of a seminar course, highlights worldwide connections in a "global phenomenon that's been going on since the early 1990s of facing historical atrocities that happened in the past and that somehow all of a sudden needed addressing," the professor said.
"It has to do with digging up stuff from World War II that has not been addressed, like sexual slavery in Asia. It also has to do with the increasing sort of awareness in our own societies of ongoing systemic historical wrongs such as slavery," Seraphim said of the topic.
'They are never fully successful'
An introductory map at the exhibit shows a selection of prominent cases where attempts have been made to address previous "wrongs." Through research, the class categorized the examples into three distinct categories: transitional justice, belated justice and enduring injustices.
According to the display, enduring injustices refers to "redress for systemic crimes typically stemming from the long history of settler colonialism." Transitional justice is investigation of mass atrocities in regime change after military dictatorships or communist regimes while belated justice is uncovering previously unrecognized mass criminal acts committed "in the context of 20th century wars."
Seraphim said the map doesn't judge how successful these examples were, but rather seeks to examine how governments address their wrongs, whether it be through acts like reparations, trials or commemorations.
"They are never fully successful," she said of the efforts.
Examples shown on the map include attempts to make amends for things like Japanese internment camps, Nazi art looting during World War II and treatment toward indigenous peoples. For the project, the six students in the course also delved into a case study of their own interest.
'It's a huge movement'
"Righting historical wrongs" is an emerging concept fueled by grassroots activism, Seraphim said.
"It's a huge movement. It's everywhere and it has to do with the global justice movement. It comes from the grassroots. Governments are pressured more and more to get with it and make statements about it. And governments pressure other governments," she said.
It also extends past governments to prominent organizations and institutions. As an example, the professor said the Catholic church is apologizing for previous treatment of women and for priests' sexual abuse of children.
It's taken hold in higher education, with universities acknowledging and attempting to make amends for previous ties to slavery. For example, Georgetown University issued a formal apology earlier this year to the descendants of slaves it sold in the 19th century.
Seraphim says the tactic's widespread adoption is a major aspect of the class's work.
"It really is a global phenomenon. Bringing that together and showing those global links is really what this was about," she said.
Fits into social justice mantra
Throughout the semester, Seraphim has given tours of the exhibit. Recently, she showed it to theater class at the college. She described it as an "eye opening experience" for the students that allowed them to look at social justice in a visual and global way they previously haven't experienced.
The history professor said the exhibit fits into the Catholic university's social justice mantra, suggesting it might even expand how the topic can be explored.
"Usually you think of social justice in terms of racism, you know, in a particular place without really looking at just how pervasive this is elsewhere," she said.
Seraphim said the exhibit allows for questions such as "what are the connections between the kind of issues we have in this country with racism and apartheid in South Africa?"
MORE: Do you suffer from 'Eurobliviousness'? This Ithaca College prof's course is for you
Like The College Fix on Facebook / Follow us on Twitter