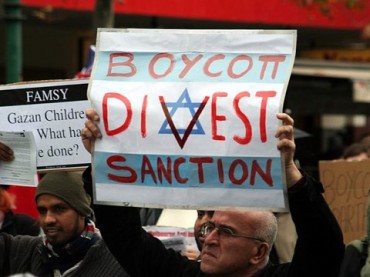 It needed a two-thirds majority, and it came close: Nine in favor and five against, with one abstention.
But the vote wasn't enough for the Stanford University undergraduate senate to approve a resolution calling on the school to "divest from companies violating human rights in occupied Palestine," sponsored by Stanford Out of Occupied Palestine, according to the Stanford Daily.
Before the vote, The Stanford Review said that the resolution was materially misleading because the school's quarterly SEC filings for the past decade show "no evidence that Stanford's endowment is currently invested in any of the companies cited in the divestment materials," and it was invested in one company on the list – Raytheon – for a single filing period in the period.
One of the late additions to the resolution's list of guilty companies, Eaton Corp., "was recently named the #25 best corporate citizen in America by Corporate Social Responsibility Magazine," the Review added.
Looking at Raytheon specifically, the Review says:
As the world's largest producer of guided missiles, the company conducts cutting edge research to reduce the amount of civilians killed by missile strikes. Moreover, Raytheon's largest revenue stream comes from the Iron Dome, Israel's missile defence system that has intercepted over 1000 Palestinian rockets, shooting down 85-90% of explosives fired at Israeli population centres during the last Gaza War. Although Stanford is not currently invested in Raytheon, it is fitting that the only company from which SOOP can even somewhat credibly call for divestment is also the most crucial defender of Israeli lives. SOOP rarely gives much credence to legitimate Israeli security concerns.
Like The College Fix on Facebook / Follow us on Twitter