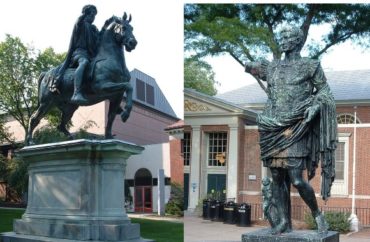 Decolonization at Brown will keep fighting for its proposal after narrow defeat
Student activists at Brown University recently failed to convince the Ivy League institution's student government to endorse its resolution to remove two Roman statues on campus, but only by a slight amount.
Decolonization at Brown wanted the University Council of Students to pass a resolution in support of removing a statue of Marcus Aurelius and a statue of Caesar Augustus. However, that vote recently failed to achieve a majority of votes after 14 percent of student representatives abstained from taking a position on the resolution.
The proposal did receive a plurality of support, however.
"46.4 percent of general body members who voted decided in favor of endorsing DAB's initiative," the student paper The Brown Daily Herald reported. The paper said that "39.3 percent voted against endorsement, and 14.3 percent abstained."
"Because the measure did not receive a majority either way, the Council does not officially endorse the initiative," the paper reported. The vote had been postponed from its original scheduled vote of October 22 and pushed to November 4.
Activists previously argued in a student publication that removal of the statues "is one step in a broader project of decolonization by confronting Brown's institutional and ideological legacies of colonialism and white supremacy."
The students wrote in The Blognonian:
We hope that instead of spending tens of thousands of dollars towards the maintenance, restoration, and relocation of the Marcus Aurelius and Caesar Augustus statues, this money will instead be invested into works produced by local Indigenous and Black artists. This further material movement of wealth back into the broader Providence and Rhode Island communities would form an important part of ongoing structural change at Brown.
The Daily Herald did not provide any quotes from student government leaders or Decolonization at Brown on the results of the vote. The student government did not respond to a request for comment from The College Fix via Facebook messaging on Monday morning.
MORE: Professor says referring to famous composers by last name is 'white supremacy'
In an opinion piece in the Daily Herald on November 1, the activist group reiterated its opposition to the statues.
"[T] he two Roman-style statues at Brown are harmful because they celebrate the ongoing occupation of Native land by the United States and replace Native histories with monuments to white, Western civilization," the students said.
"In addition to their role in celebrating colonial conquest and replacing Indigenous histories, the two copies of Roman statues at Brown also uphold the supposed superiority of white, Western civilization," they wrote.
The group said on Facebook that its removal resolution has garnered endorsements from more than 40 groups on campus. A link that supposedly lists all of the endorsements is set as private on Google Drive.
Decolonization at Brown did not respond to a Facebook message or an email Monday morning from The Fix, seeking comment and a list of the groups in support of its effort.
MORE: Brown University student criticizes statue removal proposal
IMAGE: Apavlo/Wikimedia Commons
Like The College Fix on Facebook / Follow us on Twitter