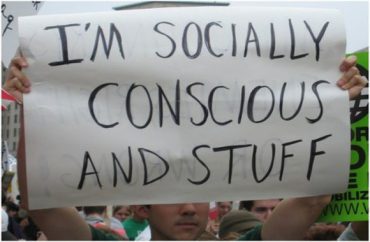 Brown University students and alumni had started a petition in the hopes the school would halt its plan to honor the CEO of PepsiCo with an honorary degree.
Because at this point why the heck not, right?
The Change.org petition complains that Indra Nooyi is "not only an advisor to Donald J. Trump, she makes $29.8 million a year selling junk food produced with links to child labor, human rights abuses, and deforestation."
And that's not all. Remember the ill-fated Kendall Jenner Pepsi ad? According to the petition, Nooyi should pay the price for that "cultural appropriation," too, as she "co-opt[ed] Ieshia Evans iconic photo at a Movement for Black Lives protest."
The petition adds that granting Nooyi the degree "contradicts the fact that the University 'prides itself on promoting positive social change through academic excellence, revelatory research and passionate students and staff.'"
The Brown Daily Herald reports the university responded by noting that under Nooyi's tenure as CEO, Pepsi introduced the "Performance with Purpose philosophy" which promotes healthier products and sustainability.
[…] Fortune magazine has ranked Nooyi as "the most powerful woman in business," according to the press release.

"Recipients in any given year are pioneers, visionaries and individuals who have served their communities in important ways," Director of News and Editorial Development Brian Clark wrote in an email to The Herald.

Despite the petition, Nooyi will receive her honorary degree at today's Commencement. Clark declined to comment on the content of the petition. "Our values align with direct dialogue and engagement on matters of interest to members of the Brown community. The University does not feel that our values encouraging dialogue and engagement align with responding through the news media to matters expressed in online petitions," he wrote.

Honorary degree candidates are selected by the Board of Fellows, a body within the Corporation, "after consultation with a faculty-student advisory committee," according to the University's website.

But those behind the petition are unconvinced that Nooyi deserves recognition from the University because of her work at PepsiCo. "I decided to join forces with fellow Brown alumni and students to use this opportunity to raise awareness to the various injustices PepsiCo commits and profits off of," Charlotte Biren '16, creator of the petition, wrote in an email to The Herald. "I also believe that this is a powerful moment to reiterate our commitment to a more just world."
PepsiCo's Executive Vice President of Communications Jon Banner said the petition's claims were "unfounded and inaccurate."
It is unlikely Brown will revoke Nooyi's degree as in its history it has only done so twice before — the most recent, er, victim being Bill Cosby in 2015.
I'm just wondering when someone will start a petition complaining about the anti-Nooyi petition. After all, how dare people complain about a successful woman of color getting an honorary degree!
MORE: Brown U. researcher given $5 million grant to discover frat boys drink more than their classmates
MORE: Brown U. snowflakes 'daunted' by group displaying US flags, playing national anthem
Like The College Fix on Facebook / Follow us on Twitter
IMAGE: Sam Felder/Flickr