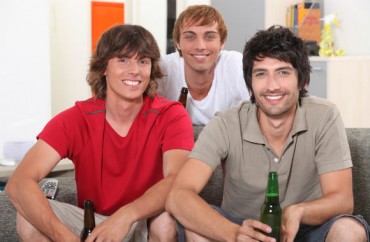 A federally funded study that came to a seemingly obvious conclusion that Greek Life members are more likely to party, drink and smoke than their fellow classmates is included as part of a U.S. senator's latest compilation of wasteful federal spending.
U.S. Sen. Jeff Flake (R-AZ) released "Wastebook: PORKémon Go" on Tuesday and it spotlights the use of $5 million in National Institutes of Health grant funds given to a Brown University researcher.
From the report:
Studies on the habits of college students funded with $5 million of NIH grants found fraternity brothers drink, smoke and generally party more than other students. They also sleep in later, which led the researchers to speculate "one explanation for this finding is that Greeks students recognize their sleep needs." Perhaps a more likely reason is that they are sleeping off their party lifestyle.
Other findings include that "non-Greek affiliated students consume more alcohol at Greek functions than at other college events, supporting the view of the enabling function," students drink more on game days and they don't always look negatively at consequences of drinking.
However, the study discovered that college students do look down on their counterparts that don't hold their liquor well.
Both male and females found losing control and aggressive behavior as a result of drinking to be unattractive, whether it was being belligerent, making derogatory comments, starting a fight, or making unwelcome sexual advances. For example, students said they would lose respect for drunk friends who were out of control, which one female student described as "just being like sloppy or throwing up or just being like annoying, or like yeah just basically annoying."
Flake's report notes the only surprise finding may be that "fraternity brothers and sorority sisters are even more likely to report consuming alcohol after participating in an alcohol abuse intervention." But what may make the study most wasteful is its inability to find a way to combat excessive drinking on college campuses.
As Flake's expose concludes:
Substance abuse is a very serious problem, especially among college students involved in Greek life, that deserves thoughtful attention. The studies highlighted here are not finding solutions to drinking-related problems, but simply retelling what is already widely known about Greek life. As they say at the frat house, "cool story, bro."
The $5 million grant was one of 50 cases of waste, fraud and abuse outlined in Flake's report of ill-spent tax dollars.
MORE: Senator questions why feds paid Cornell scholar to let bees sting his penis
Like The College Fix on Facebook / Follow us on Twitter
IMAGE: Shutterstock