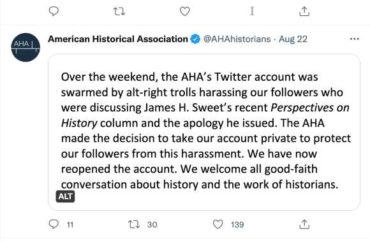 "Activist historians" attacked a column by the American Historical Society president on Twitter, unleashing a firestorm that caused the shutdown of the AHA Twitter account, wrote Philip Magness, a public policy research expert at the libertarian American Institute for Economic Research, on August 20.
"The AHA had no problem with hundreds of activist historians flooding their threads with actual harassing behavior by bad faith actors," Magness wrote. "It tolerated cancellation threats directed against its president, calls to flood the personal email accounts of its board with harassing messages and denunciations of Sweet, and dozens of profane, sexist, and personally degrading attacks on Sweet himself."
In the end, "AHA only shuttered its twitter feed from the public when it could no longer restrict the conversation to the activist mob calling for Sweet's cancellation."
Last week, AHA president James Sweet published a column in the association's magazine that gently criticized "presentism" in contemporary academic historical writing.
"If we don't read the past through the prism of contemporary social justice issues—race, gender, sexuality, nationalism, capitalism—are we doing history that matters?" he asked, describing the motivations of his fellow historians. "This new history often ignores the values and mores of people in their own times, as well as change over time, neutralizing the expertise that separates historians from those in other disciplines."
Sweet expressed concern that the number of history PhDs in fields post-1800 has risen in recent years, while new historians specializing in pre-1800 topics have become fewer.
He also questioned whether The New York Times's 1619 Project is good history, as so many others have: "As journalism, the project is powerful and effective, but is it history?"
Immediately, "all hell broke loose on Twitter," Magness wrote.
Online, the "activist wing of the history profession showed up on the AHA's thread and began demanding Sweet's cancellation," Magness stated.
Cate Denial, a professor of history at Knox College, led the charge with a widely-retweeted thread calling on colleagues to bombard the AHA's Executive Board with emails protesting Sweet's column. "We cannot let this fizzle," she declared before posting a list of about 20 email addresses.

Other activist historians joined in, flooding the thread with profanity-laced attacks on Sweet's race and gender as well as calls for his resignation over a disliked opinion column. The responses were almost universally devoid of any substance. None challenged Sweet's argument in any meaningful way. It was sufficient enough for him to have harbored the "wrong" thoughts – to have questioned the scholarly rigor of activism-infused historical writing, and to have criticized the 1619 Project in even the mildest terms.

New York Times columnist and 1619 Project contributor Jamie Bouie jumped in, casually dismissing Sweet's concerns over the politicization of scholarship with contemporary "social justice" issues. 1619 Project creator Nikole Hannah-Jones retweeted the attacks on Sweet, even though she has previously invoked the "journalistic" and editorial nature of her project to shield it from scholarly criticism by historians …

Predictably, the AHA caved to the cancellers.
One day after the article was published, the American Historical Association tweeted a "public apology" from Sweet and posted it above his original essay online.
"Its text…reads like a 'struggle session' for academic wrongthink," Magness wrote.
"I apologize for the damage I have caused to my fellow historians, the discipline, and the AHA," Sweet wrote. "I hope to redeem myself in future conversations with you all."
Nonetheless, Magness wrote, the resignation demands continued.
Meanwhile, others not in the historical field took to Twitter to criticize and ridicule the incident, prompting the AHA to "shut down debate" by locking their Twitter account and blaming the public controversy on "trolls" and "bad faith actors," Magness wrote.
A conversation about history has been invaded by trolls uninterested in civil discourse in last 12 hrs. This is appalling. Therefore conversation is temporarily limited to our community. AHA condemns all harassment of members of our community & others who replied in good faith.

— American Historical Association (@AHAhistorians) August 20, 2022
IMAGE: American Historical Association/Twitter
Like The College Fix on Facebook / Follow us on Twitter