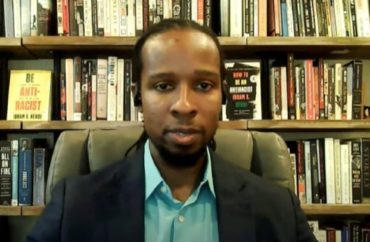 Anti-racist movements, which declare that every person must actively work against racism and identify racism in their own lives, make it harder to combat actual racism, according to a recent opinion piece in The Spectator.
"Falsely assuming that racism is everywhere, and insisting that people fundamentally opposed to discrimination are nonetheless complicit in white supremacy, is guaranteed to engender resentment and sow racial division," Andrew Doyle wrote.
The idea of anti-racism has gained in popularity due to the death of George Floyd in May at the hands of Minneapolis police officers. Universities have launched anti-racism institutes and hosted author and professor Ibram Kendi (pictured) to discuss anti-racism.
Doyle said that journalists and academics can find themselves searching for racism and finding it where it does not exist. This can lead to frustration and a deficit of trust in these same people who are supposed to keep the general populace informed.
He gave this example:
A Guardian investigation into racism at UK universities last year demonstrates how research can be interpreted to prove the opposite of what it reveals. Statistics from 131 universities found that from 2014 to 2019 there were 996 formal complaints of racism, of which 367 were upheld. On average, therefore, there were only 1.5 formal complaints each year in any given institution, with only 73 upheld among a university population running into the millions. The Guardian's front-page headline told a different story: 'Revealed: the scale of racism at universities'. According to the article, the data constitutes 'widespread evidence of discrimination' and shows racism in higher education is 'endemic'.
"When journalists, academics and politicians advance a worldview in direct opposition to the observable truth, they risk creating what's known as a 'legitimation crisis' by which trust in figures of authority is irreparably depleted," Doyle said.
Doyle explained further:
The concept of anti-racism is rhetorical sleight of hand. It is an illiberal notion couched in liberal terms. It sounds bold, virtuous and active. No wonder so many well-intentioned people are declaring themselves to be 'anti-racist' with little understanding of its divisive implications. The debate is a difficult one, because identity-obsessed ideologues express their ideas through jargon that often distorts conventional usage. The effect of this slippery language is to make rebuttals seem counter-intuitive. Nonetheless, those of us who care about equality must find a way to make the message clear, in spite of the linguistic minefields we are obliged to navigate. However odd it might sound, in order to oppose racism one must be opposed to anti-racism.
IMAGE: Women's Leadership Lab at Stanford University/YouTube
Like The College Fix on Facebook / Follow us on Twitter