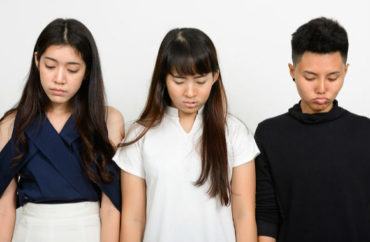 Asian students work to appear "less Asian" on their college applications to secure spots at coveted elite institutions, The New York Times recently reported.
It's actually a long-standing tradition and well-known understanding that Asian students must massage their identities on their applications to sneak past admissions bean counters, according to Students for Fair Admissions, which filed a lawsuit against Harvard University, accusing the Ivy League school of discriminating against Asian American applicants.
The case is now before the Supreme Court, but while it wound its way through the lower courts, internal documents from the university revealed administrators have rated Asian-American applicants lower on personality traits that included "positive personality," likability, courage, and being "widely respected."
Asian student applicants have nipped and tucked at their resumes to appear "less Asian," The New York Times reported.
"Asian Americans are a hugely diverse, complicated group, and students don't fit into cookie-cutter stereotypes. But in the high-stakes competition for spots at elite colleges, in which so much of an applicant's life must be boiled down to 500 or so words, many Asian American students are acutely aware of what not to be," the newspaper reported.
It cited several anecdotes in its Dec. 2 piece:
When it came time to fill out his college application form, Max Li chose not to declare his race. Even though he knew his last name sounded Chinese, he selected "prefer not to say."

Clara Chen was advised to avoid the Advanced Placement exam for Chinese because college admissions officers might assume, based on her last name, that she already spoke the language, which could undermine the value of her score. She took the test for Advanced Placement French instead.

When Marissa Li was growing up, she loved playing competitive chess, and spent hours studying the matches of some of her favorite players, like Bobby Fischer. But on her college application, she barely mentioned her interest in the game because she was afraid that it might come across as too stereotypically Asian.
The article quotes some Asian students who say they will not hide who they are in their applications, however, emboldened in part by the recent wave of anti-Asian hate incidents across the country.
Read the entire article at The New York Times.
MORE: Supreme Court majority seems skeptical of affirmative action during oral arguments
IMAGE: Ranta Images / Shutterstock
Like The College Fix on Facebook / Follow us on Twitter