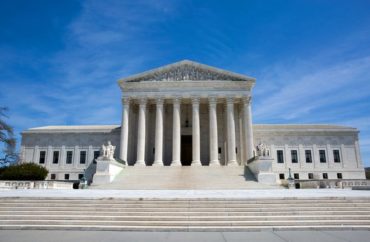 The United States Supreme Court on Monday heard oral arguments involving two high-profile cases on affirmative action in college admissions, and if the justices' questions are any indication, most of them seemed skeptical of race-based admissions.
The plaintiffs, Students for Fair Admissions, allege Harvard's and the University of North Carolina's admissions practices discriminate against high-performing Asian American applicants to create a diverse campus environment.
"Over nearly five hours of oral argument, the justices posed sharp questions over admissions programs at the University of North Carolina and Harvard University that consider the race of applicants — as one of many criteria — in order to achieve student body diversity," The Hill reported.
"The court's majority appeared receptive to arguments by the conservative challengers, Students for Fair Admissions, who argued that the schools had impermissibly weighed race in admissions decisions."
Fox News reported that "Supreme Court Justice Clarence Thomas on Monday dismissed an argument from a lawyer defending race-based affirmative action policies in college admissions and said that he doesn't give much weight to the idea that diversity automatically creates better outcomes."
Fox News reported:
Thomas asked state Solicitor General Ryan Park to describe the educational benefit to including race as a factor in college admissions. Park responded that in studies involving stock trading results, "racially diverse groups of people … perform at a higher level."

"The mechanism there is that it reduces groupthink and that people have longer and more sustained disagreement, and that leads to a more efficient outcome," Park said.

Thomas responded, "I guess I don't put much stock in that because I've heard similar arguments in favor of segregation, too."

"I've heard the word diversity quite a few times, and I don't have a clue what it means. It seems to mean everything for everyone," Thomas also stated.
The Supreme Court is described as having a conservative majority.
At one point during questioning, Justice Samuel Alito asked pro-affirmative action attorneys: "What is your response to the simple argument that college admissions are a zero-sum game? And if you give a plus to a person who … falls within the category of underrepresented minority but not to somebody else, you're disadvantaging the latter student?"
In contrast, the court's "liberal justices defended a limited consideration of race in admissions as one factor among many to give opportunities to deserving applicants," Reuters reported:
Justice Elena Kagan said the plaintiffs are arguing that it does not matter if institutions are racially diverse in an American society that is quite diverse.

"I thought that part of what it meant to be an American and to believe in American pluralism is that actually our institutions are reflective of who we are as a people in all our variety," Kagan said.

Justice Ketanji Brown Jackson, the first Black woman to serve on the court, said that given schools' lawful ability to consider dozens of personal factors it might be unconstitutional to disallow the recognition of race among them.

Jackson said that if "a university can take into account and value all of the other background and personal characteristics of other applicants, but they can't value race, what I'm worried about is that that seems to me to have the potential of causing more of an equal-protection problem than it's actually solving."
The Supreme Court's decisions on the court cases are slated to be handed down in June 2023.
MORE: Top conservative legal scholars scrutinize affirmative action ahead of Supreme Court hearing
Like The College Fix on Facebook / Follow us on Twitter