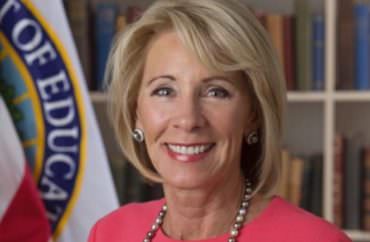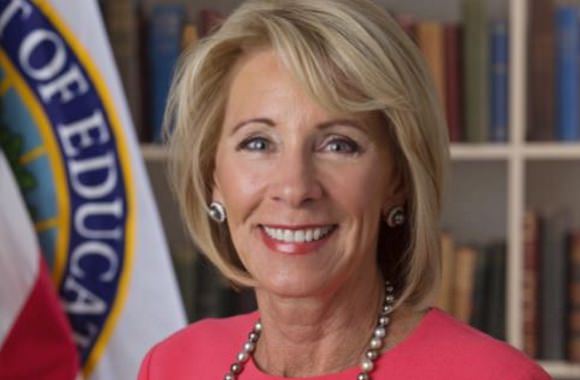 'If everything is harassment, then nothing is'
A year after the Department of Education proposed changes to regulations on campus sexual misconduct investigations – and nine months after the public comment period closed – the final regulations have yet to be released.
Opponents of due process in Title IX proceedings are still trying to weaken the proposal, scheduling meetings with the Office of Management and Budget until the week before Christmas.
If anyone was concerned that Secretary Betsy DeVos* was buckling under the pressure from the "Believe Survivors" lobby and its allies across the mainstream media, she dispelled those concerns in a speech to the Independent Women's Forum, which gave her its "Woman of Valor" award Wednesday.
Brooklyn College Prof. KC Johnson, who chronicles Title IX litigation, pointed out that DeVos's remarks "don't suggest an intent to weaken" the proposed changes despite the long-delayed release of the final rules.
DeVos connected her department's work to rein in "kangaroo courts" with her guiding principle that "government is generally not the solution to any problem," especially in education:
So, we are working to dismantle the government social engineering in education, including the previous administration's staggering overreach on Title IX. …

Justice demands humility, prudence, and truth. And the truth is: the so-called "guidance" by the prior administration [the "Dear Colleague" letters] failed too many students.

Here is what we know happens: a student says he or she was sexually assaulted on campus. If he or she isn't urged to keep quiet or discouraged from reporting it to local law enforcement, the case goes to a school administrator. The accused may or may not be told of the allegations. If there is a hearing, both the accuser and the accused may or may not be allowed legal representation.

Whatever evidence is presented may or may not be shown to all parties. Whatever witnesses—if even allowed to be called—may or may not be cross-examined. And government dictated that schools must use the lowest standard of proof.

And now this campus official—who may or may not have any training in adjudicating sexual misconduct—is expected to render a judgement. A judgement that changes lives.
The department's proposed regulation will "simply balance" the scales of justice, not tilt them, as opponents characterize it, she continued. It requires "basic due process protections" while offering schools "a menu of things schools … to help survivors heal from trauma and continue their education."
DeVos connected Title IX overreach to the speech police on campus, which seek to "enforce ambiguous and incredibly broad definitions of assault and harassment":
Too many cases involve students and faculty who faced investigation and punishment for only speaking their minds or teaching their classes.

Any perceived offense can become a full-blown Title IX investigation.

But if everything is harassment, then nothing is.

Punishing speech protected by the First Amendment trivializes actual harassment. Harassment codes which trample freedom of speech derail the primary mission of a school—of learning… [sic] that is, to pursue truth.
DeVos noted the University of Michigan has permanently shuttered its bias response team to settle a First Amendment lawsuit, but she expressed incredulity that the taxpayer-funded university "still employs 76 diversity-related administrators who cost taxpayers and students more than 10 million dollars in compensation every year. They focus on every kind of diversity except a diversity of ideas."
The Trump administration stands against the "teams of speech bullies with the power to punish perpetrators of hurt feelings" at more than 200 colleges across the country, she said.
"Feelings are important, but learning isn't about feelings. It's about thinking. … This Administration won't let students be silenced. We stand with their right to speak and with their right to learn truth."
Like The College Fix on Facebook / Follow us on Twitter