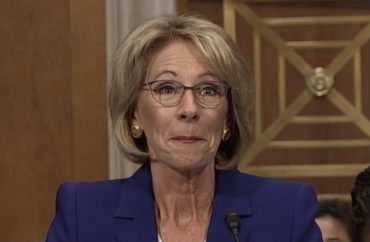 Faculty would likely have to give up contract protections
Colleges would no longer be allowed to run sexual-misconduct proceedings through a single investigator, under the Department of Education's long-awaited proposed Title IX regulation released Friday.
That in turn would require colleges to allow accusers and accused students to cross-examine each other in "live" hearings through their lawyers or other advocates.
And in a major change that could set off fights with faculty and their unions, colleges would be required to use the same evidence standard in both student and faculty disciplinary proceedings.
In order to preserve the low evidence standard of "preponderance" for students, mandated by the Obama administration, colleges would be forced to lower the higher standard of evidence commonly used for faculty.
The proposed regulation, which kicks off a monthslong notice-and-comment rulemaking, marks a major break with the Obama administration's approach in two ways.
Not only does it require greater consideration of accused students than the rescinded Obama guidance did, but it puts those requirements in legally binding form, meaning they could only be overturned by a subsequent rulemaking.
Democratic lawmakers and anti-rape groups panned the proposed regulation as an attack on alleged victims of sexual misconduct, as expected.
More surprising: The ACLU came out against the proposed regulation, despite its history of advocacy for due process, and the ranking Democrat on the House Education Committee said colleges "must secure due process for the accused."
The final proposed regulation changed course from a previous leaked draft in a few ways, some favorable and some disappointing to advocates of due process.
It was originally silent on the single-investigator model, which functionally prevents cross-examination in any form, because it fell outside the scope of Title IX or Supreme Court precedent, a department official previously told The College Fix.
Because the draft required cross-examination in hearing models, critics feared that colleges would switch to the non-hearing, single-investigator model. The draft had vaguely required a method that "effectively substitutes for cross-examination," even outside a traditional hearing
Unlike the previous draft, however, the regulation would continue to allow double jeopardy for exonerated students. Not even the Clinton administration ordered colleges to let accusers appeal rulings in favor of accused students.
Return to Supreme Court standard: 'severe, pervasive and objectively offensive'
The department's Office for Civil Rights said it was acting to "better align" its regulations with "the text and purpose of Title IX and Supreme Court precedent and other case law."
It portrayed previous guidance and regulations as confusing and unfair for both colleges and parties in a dispute, leading to distrust in the reliability of findings. OCR cited criticism of previous guidance by dozens of law professors at Harvard and the University of Pennsylvania.
"The Department learned that schools and colleges were uncertain about whether the Department's guidance was or was not legally binding," the proposed regulation said, referring to the Obama administration's rescinded guidance going back to 2011.
"To the extent that guidance was viewed as mandatory, the obligations set forth in previous guidance were issued without the benefit of notice and comment that would have permitted the public and all stakeholders to comment on the feasibility and effectiveness of the guidance," it said.
The proposed regulation defines "what conduct is actionable" as sexual harassment, the trigger for a "mandatory response" by a college, and required "supportive measures" for complainants regardless of whether they file a formal complaint, such as schedule changes and no-contact orders to avoid respondents.
In an embargoed background document shared with journalists and advocates Thursday night, the department described its rulemaking as "an historic process" that is "for the first time treating the problem of sexual harassment with the gravity it deserves," by issuing regulations after public comment.
OCR cited the Supreme Court's Gebser and Davis rulings from the late 1990s to explain why it's only holding federally funded schools "accountable for things that are within the school's knowledge and control," and for responses to sexual-misconduct reports that are "clearly unreasonable in light of the known circumstances."
The Davis ruling also set out a standard that the Obama administration altered in its nonbinding Title IX guidance.
Under OCR's proposal, the government would return to defining sexual harassment as unwelcome sex-based conduct that is so "severe, pervasive and objectively offensive" that it denies education to the complainant. The three-prong Davis test is often misstated as "or," rendering any of its prongs sufficient to constitute sexual harassment.
The proposed regulation "will correct capturing too wide a range of misconduct resulting in infringement on academic freedom and free speech," as happened under previous guidance, OCR said.
The department emphasized that colleges still have broad leeway to choose a range of discipline and codes of conduct under the proposed regulation.
For example, they can choose to require "affirmative consent" for sexual activity, the background stated. This theoretically requires the initiating party to obtain verbal or nonverbal consent at each stage of activity, but functionally prevents accused students from defending themselves.
But colleges can only be punished under Title IX if they have "actual knowledge" of a sexual-misconduct report and fail to take action, meaning it was reported to an "official with authority to take corrective action." Any reports to a Title IX coordinator are treated as actual knowledge under the proposed rules.
Reported harassment also must have taken place "within the school's own program or activity," a limitation built into the language of Title IX but ignored in previous guidance.
It doesn't have to happen on campus, but the school must have some tie to the setting, such as sponsoring an event or exercising oversight, according to the background document.
Testimony barred if you don't submit to cross-examination
The proposed regulation would require several changes to practices that have shown up in litigation against colleges by accused students.
Colleges would have to presume the innocence of accused students throughout the process, "objectively evaluate" evidence for and against them and avoid "sex stereotypes" in training materials, which must also promote impartial investigations.
The parties would get "equal opportunity" to review and respond to all evidence before a determination is made. Colleges must tell parties that the burden of collecting evidence, however, falls on the college and not them.
Colleges would have to keep records of all investigations, including training materials, and make them available to the parties upon request. Title IX coordinators, investigators and decisionmakers with conflicts of interest would be excluded from proceedings.
Not only would colleges be required to allow cross-examination, but the testimony of any party or witness that refused to undergo cross-examination would be excluded from a determination.
The proposed regulation cites the recent 6th U.S. Circuit Court of Appeals ruling in Doe v. Baum, which said cross-examination is constitutionally required in the Title IX context.
Though appeals would remain available to both parties – if a college allows appeals at all – the Title IX coordinator, investigator and decisionmaker from the original proceeding would be barred from hearing the appeal.
In a change that would affect colleges far beyond students, the proposed regulation would require them to use the same evidence standard in both student and faculty disciplinary proceedings.
OCR first noted that while civil litigation "generally uses" the preponderance of evidence standard, which was mandated in student sexual-misconduct proceedings by the Obama administration, Obama's Title IX process was missing "features that promote reliability."
Title IX proceedings are also like "civil administrative proceedings," which often use the clear-and-convincing standard afforded to faculty.
"These cases recognize that, where a finding of responsibility carries particularly grave consequences for a respondent's reputation and ability to pursue a profession or career, a higher standard of proof can be warranted," the proposed regulation said.
OCR cited a federal judge's September ruling that preponderance is not sufficient in a student disciplinary case "where the consequences of a finding of responsibility would be significant, permanent, and far-reaching."
A college would only be allowed to keep preponderance in two situations: if it uses that evidence standard for non-sexual violations with the "same potential maximum sanction," and if it's also applied to faculty," who often have superior leverage as a group in extracting guarantees of protection under a recipient's disciplinary procedures."
Maxine Waters will 'put an end to your destruction of civil rights'
The proposed regulation was harshly criticized by the same Democratic lawmakers and interest groups who went after Education Secretary Betsy DeVos* when she rescinded the Obama guidance a year ago.
Sen. Patty Murray, ranking Democrat on the education committee, said the regulation was the latest attempt by the Trump administration to "attack and undermine women, their health care, their rights, and their well-being." She claimed without evidence that it would let colleges "exempt themselves from their obligations" under Title IX.
Her Democratic peer on the House Education Committee, Bobby Scott, used less strident language. He called it a "damaging setback" for alleged victims but stated "institutions must secure due process for the accused."
KC Johnson, co-author of The Campus Rape Frenzy, tweeted that Scott's statement may have been "the first time a Democratic member of the House or Senate has publicly endorsed due process for accused students."
Rep. Maxine Waters personally addressed DeVos in a tweet, saying she would "put an end to your destruction of civil rights protections for students." Rep. Joe Kennedy incorrectly claimed the regulation would let accused students themselves cross-examine accusers, earning a rebuke from lawyer Gabriel Malor.
The ACLU claimed that the proposal would "tip the scales against those who raise their voices" and "make schools less safe for survivors of sexual assault and harassment."
It's On Us claimed that "DeVos and her team lack basic empathy for survivors and do not care about campus safety."
IMAGE: ABC News/YouTube
Like The College Fix on Facebook / Follow us on Twitter