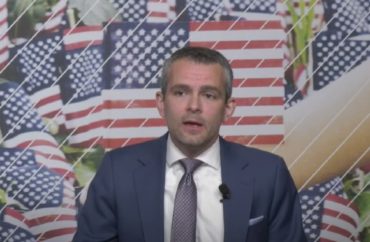 Ryan Anderson, the founder of Public Discourse and the president of the Ethics and Public Policy Center, recently told law school graduates that their "calling in life" comes from God.
He told Trinity Law School's graduates that "the first thing to say about vocation is that it is intimately connected with truth" and "each of us has a calling in imitation of the Master who gave his life bearing witness to the truth."
He explained further:
Bearing witness to the truth will require us to think seriously as Christians. For me, this first really happened as an undergraduate, when I came to see that there's no conflict between faith and reason. I came to understand more deeply the reasons for the hope I have.

I also came to see just how misguided secular liberal policies were on the most urgent and important questions, and how much damage—in terms of human brokenness—these policies cause. I saw that to love my neighbor required me to help defend the truth in terms that my secular classmates could engage.
Anderson, who has written books defending marriage and criticizing the transgender movement, said his vocation has meant "finding ways to reach modern secular audiences with arguments for the truth about life, marriage, gender identity, religious liberty, and social justice."
Anderson thanked several mentors of his, including Princeton Professor Robby George and former Amherst College Professor Hadley Arkes.
"In order to achieve justice, in order for law to embody reason ordered to the common good, we need to vindicate these truths," Anderson told the students. "That will require courage from you."
Read the essay version of the speech.
IMAGE: YAF/YouTube
Like The College Fix on Facebook / Follow us on Twitter