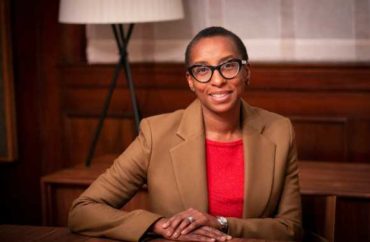 Harvard's ballooning administration, which has enormously driven up tuition and supplanted education with indoctrination, will expand yet further under new President Claudine Gay, a Harvard Law alum and veteran civil rights lawyer argued.
"The long-running trend toward our colleges and universities being run by bureaucrats rather than scholars has just taken a giant leap forward with the selection of Claudine Gay as Harvard's next president," Harvey Silverglate, civil liberties attorney and co-founder of Foundation for Individual Rights in Education, wrote Feb. 22 in the Boston Herald.
Gay (pictured) has served as dean of Harvard's Faculty of Arts and Sciences as well as a professor of government and African and African-American studies, which makes her a "qualified candidate" with "similar accomplishments as past presidents," Silverglate wrote.
However, she is "the perfect candidate to carry forward the disastrous bureaucratization of American higher education":
The daughter of Haitian immigrants, Gay will become the 30th president of Harvard on July 1, The Harvard Gazette reported last December.
As a Harvard dean, she championed expanded DEI initiatives, Silverglate wrote:
Harvard Magazine reported in its August 2020 issue that then-Dean Gay had announced "a series of initiatives to address racial and ethnic equality – including faculty appointments and the addition of an associate dean of diversity, inclusion, and belonging" despite Harvard already having an entire office dedicated to "equity, diversity, inclusion, and belonging."…

There are now more administrators than there are teachers in our colleges and universities. Harvard's administrative payroll has nearly doubled between 2002 and 2020. Indeed, Harvard, as of 2020, spent $47,706 per student in administrative expenses.

Administrative bloat accounts for the enormous increase in the annual cost of attending Harvard College (approximately $80,000 annually not including personal costs.) In this respect, Harvard is typical of other colleges and universities…

If most of college administrators were laid off, one result would be a drastic reduction in what it costs to attend college. In addition, of course, our campuses could return to educating rather than indoctrinating or training students as seems to be Dean Gay's goal with her plans for racial justice rather than academic initiatives.
MORE: 'Dismiss 95 percent of the bureaucrats': Harvey Silverglate on what he'd change at Harvard
IMAGE: Harvard Gazette
Like The College Fix on Facebook / Follow us on Twitter